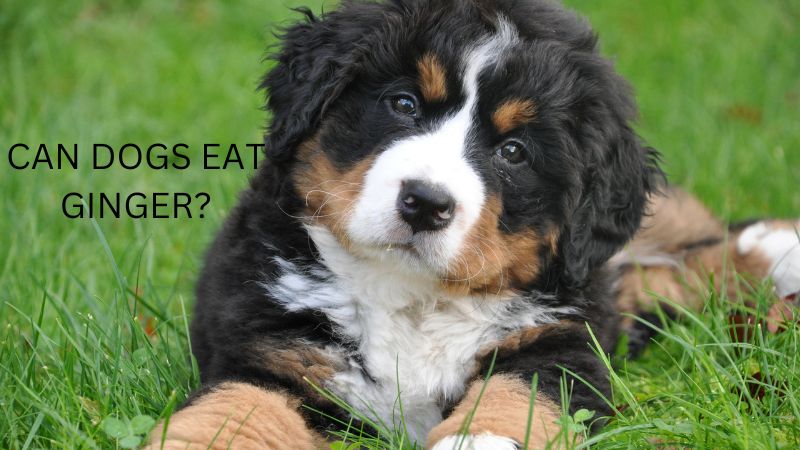 According to doctors, ginger is very beneficial for the health of humans. Especially during winter, ginger in tea doubles the taste of tea; ginger is hot, and its decoction proves helpful in case of cold. Ginger has many benefits, so you must have thought, can dogs eat ginger? Saw the benefits of ginger, it is natural to believe that every pet's parent would like their pet to take advantage of ginger. To know the answer to this question, can dogs eat ginger? Keep reading this article.
        Yes, dogs can eat ginger, but only in small amounts. Everything has a limit, and then the dog's stomach is sensitive. That's why he has to think ten times before feeding anything. So, If ginger is fed to dogs in small quantities, it is healthy for them. Fresh ginger root is rich in antioxidant content, and its anti-inflammatory properties are helpful in healthy blood circulation. They reduce inflammation as well as promote heart health in dogs.
       Ginger is not poisonous to feed your canine companion in small amounts. You can offer your dog ginger root, dried ginger, or juice. You know, all dogs are not the same. Some dogs may get an allergic reaction even after eating a small amount of ginger. Their allergic reaction includes itching, redness, and sometimes a rash. So, friends, it is good for you and your dog to consult a veterinarian before feeding ginger or giving ginger juice to your canine companion. As we said earlier, dogs' stomachs are sensitive, so you should consult a veterinarian before giving anything to any dog.
Is Ginger Good For Dogs Health?
Ginger has many benefits, such as curing an upset stomach and removing the problem of digestion. Examples of its main advantages are. If your dog is on a car trip, feeding him homemade ginger biscuits before can help reduce his sickness. Ginger helps reduce heartworm microfilariae in dogs. But this does not mean that without thinking, start giving ginger to your canine companion. You should know that ginger has not been found to cure heartworm disease, so don't take action without thinking.
        Although ginger is found to have anti-cancer properties in humans, it is a bit difficult to answer whether dogs can take advantage of it. Limited studies have been done on how eating ginger affects dogs, so it is necessary to consult a veterinarian before taking any steps.
        According to studies, we have been able to say that ginger helps reduce chemotherapy-induced nausea in dogs. Therefore, if your dog has cancer and you are undergoing treatment, you can add ginger or ginger juice to their food after consulting your veterinarian. So, we can say that eating ginger can help prevent nausea in dogs, but this does not apply to all dogs. Ginger is not healthy for everyone.
Health Benefits Of Ginger For Dogs
Ginger has many benefits that your dog can take advantage of. The following are its four main advantages:
The antioxidants and vitamins help stop the cells that lead the dog to cancer. It increases the memory power of the dog, and also, many vitamins and minerals are present in ginger for the health defense system.

Ginger has not only been shown to protect humans from stomach problems but also helps prevent gastrointestinal problems in dogs. Ginger also helps prevent gas and chronic bloating and stimulates the stomach. Ginger is used to fight nausea and motion sickness in dogs.

Anti-inflammatories present inside ginger reduce joint pain.

Ginger makes the dog's blood pressure healthy and helps circulation by breaking down blood clots. It keeps the healthy, heart According to studies, and it proves helpful in treating heartworm disease.

Is Ginger Bad For Dogs Health
Although ginger brings many benefits to dogs, it has some risks that can harm dogs:
 Although ginger helps maintain blood pressure, it also dilutes the blood by eating it excessively.

If your dog is pregnant or diabetic and suffers from heart disease, you should not feed her ginger.

If ginger is spicy, it can spoil your dog's digestive system. Keep in mind that it also contains an excess of ginger.

If your dog is getting ready for surgery or taking any medicine, he should still not be given ginger.
Always start giving small amounts of ginger to your dog. And be sure to consult your veterinarian before giving ginger.
How To Add Ginger To Your Dog's Diet
According to the size of your dog, you can feed them gingerly. Remember, only a tiny amount of ginger can benefit the dog. You must always consult a vet before feeding ginger to dogs. In these ways, you can include ginger in a dog's diet.
You can make these biscuits with sugar-free ginger powder or fresh ginger. Your dog will love it.

You can make ginger water, that is, add a small amount of ground ginger to the dog's water and give it to him, or ginger tea is also a good option.

You can add a small amount of ginger to your dog's diet, which will benefit them.
Ginger may not work equally well for humans and dogs, so talk to your veterinarian before giving it.
How Much Ginger Is Safe For Dogs To Eat?
There are many benefits of ginger that we have given you, but your dog companion will be able to take advantage of it only as long as You give him a small amount of ginger to eat. Eating a large amount of ginger can upset both you and your dog. Generally, small-breed dogs can eat one-fourth of ginger a day. It is considered appropriate for a medium-breed dog to consume half a teaspoon of ginger, and a dog with a large breed can eat a teaspoon of ginger. Giving a piece of ginger bigger than your thumb to a big dog can be harmful, so take care.
FAQ
Can Dogs Eat Raw Ginger?
Yes, raw ginger can be an excellent option to feed the dog. It will not be dangerous for the dog. Before giving ginger to the dog, finely chop the pulp of ginger root and then provide it.
Can Dogs Eat Ginger Pickles?
Ginger pickle is not bad food for a dog, but you should avoid feeding spicy ginger to a dog. Ginger pickle also contains salt, which is poisonous for dogs, so don't give ginger pickle in the market. There is no problem in giving them homemade. You can feed a small piece of pickled ginger to your pet. It will not harm, although it is less beneficial than raw and dry ginger root.
Can Dogs Eat Ginger Biscuits?
However, ginger biscuits will not harm your dog if they are sugar and fat-free. Sugar is harmful to your dog. It can damage their teeth and gums and can also cause stomach problems. Small amounts of ginger biscuits are safe for your dog.
Can Dogs Eat Ginger Bread?
No, gingerbread can harm your dog as it contains poisonous nutmeg. Ginger bread is also high in sugar and fat, which will become dangerous. Although your dog eats a few pieces of it, there is nothing to be afraid of, but you do not have to feed it on purpose.
Is Ginger Safe For All Types Of Dogs?
No Ginger is not equally safe for all dogs. A large and healthy dog ​​can eat it in small amounts without fear, But if your canine companion has some health problems, you have to be careful. Generally, pregnant or lactating dogs and dogs who face diabetes and blood-related difficulties should not be given ginger.
Can Dogs Eat Ginger Cake?
Dogs cannot eat ginger cake because, Again, the amount of nutmeg and sugar may be high. However, if your dog licks some part, then do not panic. But take care that they do not reach it.
Which dog food is best for diabetic dogs?
By feeding diabetic dogs complex carbohydrate-rich grains, such as barley and brown rice, it is possible to stabilize their blood sugar levels. If your dog is known to be sensitive to grains, you should only feed them grain-free food.
What plants may dogs safely consume?
Some herbs harm dogs, but here are some safe ones you may sprinkle on top of your dog's next raw food to give it a little extra taste and nutrition!
Oregano. Oregano may be best known for its association with pizza and pasta, but this herb also contains a significant amount of flavonoids and antioxidants, Cinnamon.
Conclusion
In conclusion, we can say that not all human foods are suitable for dogs. However, if given in small amounts, they can bring benefits. Not feeding your dog anything without consulting a vet would be best. It would be good to remember that dogs' stomachs are sensitive. They cannot easily tolerate human food. So it would be better for you to feed your canine companion in front of your eyes as told by the vet.