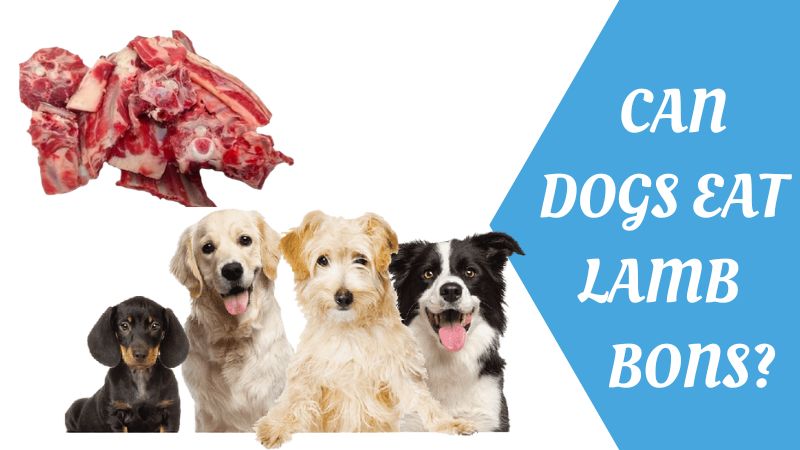 Can dogs eat lamb bones? You may find that your dog enjoys raw lamb bones, especially meaty ones. However, a dog owner should be aware of the significant risks associated with feeding bones (even raw bones) to their pet. In addition to providing important nutrients, chewing on lamb bones can help clean your dog's teeth. The raw lamb bones may still damage your dog's teeth since hard bones can cause broken and chipped teeth. Additionally, small bone fragments can cause internal damage and blockages.
If you plan to feed lamb bones to your dog, this article addresses the pros and cons, including safe serving methods.
Are dogs able to eat lamb bones?
The best way for dogs to consume meaty bones is raw. Compared to raw lamb bones, cooked lamb bones are brittle, so they are more prone to splintering and breaking. Some of these splinters may be sharp, resulting in severe internal injuries. If you wish to feed them bones, try only feeding them raw bones.
Feeding dogs raw lamb bones is associated with some risks as well as benefits. Before deciding on this type of food, consider these factors. There is no doubt that most dogs will enjoy the taste of lamb bones and meat on them. These bones not only provide your dog with nutrition, but they can also calm boredom and help maintain the dog's dental hygiene. Raw bones can also break into small pieces, which is dangerous. Raw lamb bones can often be very hard, increasing the risk of broken teeth, and some people worry that raw lamb meat and bones can harbor bacteria.
The characteristics of each dog are different. While most dogs love gnawing on lamb bones, some dogs may not! You should weigh the above risks and benefits before giving your dog lamb bones.
Are Lamb Bones Good for Dogs?
Lamb's bones are usually offered to dogs in two ways. As a first step, lamb bones and meat can be included in a BARF (Bones and Raw Food) diet. As a second option, owners may offer their dog a lamb shank bone, which is hard, large, and can be chewed on by their dog. Lamb's bones are usually searched for by the latter type of person.
The chewing of raw lamb bones is beneficial to dogs as besides calcium raw bones also contain additional nutrients. In addition, chewing on lamb bones can keep a bored dog occupied for a while. Raw bones can also help in pacifying an aggressive dog.
Like other raw bones, Raw lamb bones can improve your dog's dental health. Raw bones are effective in removing dental calculus from dogs. If you have difficulty brushing your dog's teeth or if your veterinarian has mentioned dental calculus as a concern, this is useful to you. While lamb bones offer these benefits, you should weigh the risks before giving them to your dog.
Are Lamb Bones Bad for Dogs?
The answer to "can dogs eat lamb bones?" is yes, but there are some risks. Lamb's bones don't have specific risks. They apply to any large bone given as a chew to dogs, including beef, oxtail, and more. Lamb's bones are not recommended for chewing or for use in raw diets, because the major risks are:
A nutritional imbalance
A broken tooth or a dental injury
Injury/blockage to the internal organs
Bacteria that might be harmful
Here's a closer look at each one.
Imbalances in nutrition
Dogs can benefit from lamb bones because they contain some important nutrients. However, commercial kibble and commercial wet food diets already contain the correct balance of nutrients that a dog needs. This balance may be upset by the addition of raw food and bones.
Treats given to dogs shouldn't exceed more than 10% of their daily calorie intake. Additionally, homemade raw diets containing bones pose a higher risk of nutritional imbalances than commercial diets.
Three Tips for Giving Your Dog a Raw Lamb Bone
Raw lamb bones can be made safe for dogs in several ways. If you want to give your dog a raw bone, follow these tips:
Check the size: Give your dog a bone that's larger than its mouth. In this way, the dog is prevented from swallowing the bone and possibly choking on it. Make sure the bone has no sharp edges that might cut your dog's tongue.
Keep them clean: A dog may suffer from acidity, indigestion, and other stomach-related problems if they consume raw bones that contain harmful bacteria. Keeping a bone soaked in boiling water for 15-20 minutes can help in getting rid of harmful bacteria. Once the bone cools down, it can be given to the dog.
Watch your dog: It is never a good idea for dog owners to let their pets consume raw lamb bones unattended. A shallow breathing pattern, pain, constipation, or vomiting may indicate choking or gastrointestinal distress.
Several signs indicate that a swallowed bone has caused internal injuries:
Vomiting or retching
Laziness
Pain signals/whimpering
A decrease in appetite
As well as much more. You should take your dog to the veterinarian immediately if you think he swallowed a bone and has suffered an internal injury.
Conclusion
The topic of feeding dogs lamb bones or for that matter any other kinds of bones, has generated a great deal of controversy. The right decision for your dog can only be made by you. Consider the benefits and risks of lamb bones for your dog, and if you are unsure, contact your veterinarian. It will be possible for them to offer you advice as well as the most recent studies on this subject. By taking your dog's age, health, and medical history into account, they will be able to help you make the right decision.