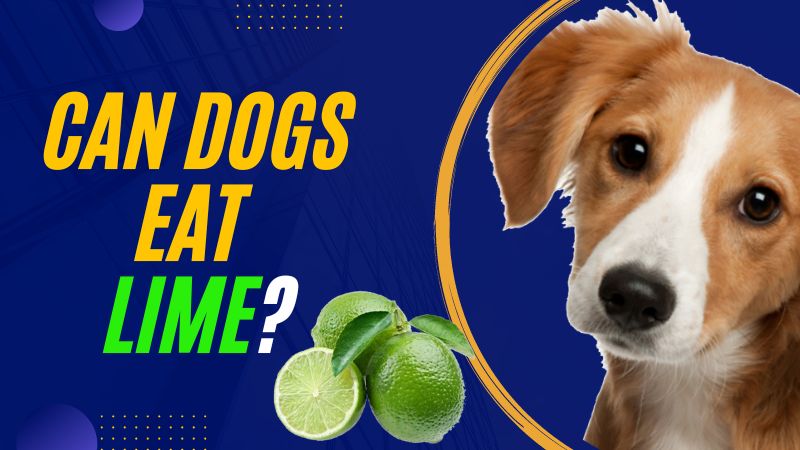 Can Dogs Eat Lime? Lime is a very versatile fruit. It is no secret that we humans use all parts of lime, which include both the pulp as well as the skin, for our personal and commercial purposes.
Lime juice is rich in Vitamin C, which helps keep the immune system and the skin healthy, increases iron absorption, etc.
As an added benefit, lime juice is antifungal and antibacterial.
Although lime has a lot of benefits for humans, that doesn't mean they are also applicable to dogs.
The number of essential oils and chemicals present in lime can upset the dog's stomach and can prove poisonous to them.
Do limes have any health benefits?
There are several health benefits associated with limes. Dogs, however, face quite a different situation when fed lime juice or if they eat limes.
Vitamin C is essential for dogs just as it is for humans. The food they eat provides all of the vitamins they need, just like how we get all of our vitamins from our diets.
In addition to boosting the immune system of your dog, vitamin C also assists in the fight against sickness, bacteria, infection, and harmful diseases. Additionally, it can reduce allergies as well.
Vitamin C helps in promoting the health of the joints and bones of your dog. As a final benefit, it can even help to prevent issues like joint problems that can cause hip dysplasia.
However, your dog's going to need vitamin C from other sources as lime consumption is Dangerous for dogs.
Lime Fruit: Is it toxic to dogs?
Lime fruit is not only harmful but extremely dangerous for dogs. The citric acid present in this fruit can cause severe stomach-related issues in your dogs, which might lead to dehydration and digestive problems.
Whenever your dog eats lime fruit, it can set off a chain reaction in the digestive system, resulting in severe and potentially life-threatening consequences if left untreated.
Do dogs get sick from limes?
Dogs should not consume limes. Limes contain chemicals like linalool and limonene which are toxic for dogs.
Dogs can get sick from lime without even eating it. If lime is rubbed against the dog's skin, certain chemicals in the lime can cause illness.
The flesh of the lime fruit is very acidic and it might cause stomach upsets in dogs.
Why is Lime Toxic for Dogs?
So, we have found out that lime is toxic for your dogs. But the question is how and why?
The presence of these three chemicals in lime makes it poisonous to your dog. Let's talk about them in detail-
Limonene
Citrus fruits have a pleasant scent that is primarily attributed to the substance Limonene. Many products contain this ingredient as a flavoring or fragrance agent. However, its other use is as an insecticide, and therefore, it is toxic to dogs.
Linalool
Linalool is also responsible for limes' citrus fragrance. Linalool, just like limonene, is mainly used in perfumes and lotions as a fragrance. However, its other use is as an insecticide, and therefore, it is toxic to dogs.
Psoralen
Lime and other citrus fruits contain the chemical psoralen. It is toxic for dogs.
Indications of Lime Poisoning
What if the dog eats lime and gets poisoned by it? How do we recognize the symptoms?
Depending on how much lime your dog consumes, his symptoms will vary. Some of the negative effects include:
If the condition is severe, a collapse can occur, liver failure can also occur, as well as tremors, nausea, and an inability to coordinate one's movements.
In many cases, your dog might suffer from a stomach issue. There are chances that the dog may experience problems that include Diarrhea, lethargy, or excessive drooling in addition to other problems.
Lime poisoning can also result in the sudden death of a dog.
Can limes kill dogs?
You might be concerned about your dog's health after it's exposed to lime. Despite the possibility that it might be toxic, your dog is most likely to suffer from only a short-term illness.
Start by finding out the quantity of lime your dog has consumed. Larger breeds of dogs can consume more quantity of lime before it causes toxicity. However, for a dog of a smaller breed consuming even a single piece of lime can be dangerous.
Watch your dog's reaction if you believe he didn't consume too much. Make sure they drink plenty of water. Frequent urination will help in flushing the toxic chemicals out of their body.
In case your dog eats a large quantity of lime, you should consult your veterinarian immediately. If left unattended and untreated, your dog might suffer serious health consequences.
Conclusion
Even though dogs can consume lime juice or flesh in small amounts, it's best to avoid letting them eat the same.
Even though limes seem like a perfectly safe fruit, your dog shouldn't eat them. Lime is toxic, so keep it out of your dog's reach. There is nothing worse for a dog owner than when their pet becomes ill, and that is the last thing they want.
In case of concerns about something, your dog has eaten, immediately consult your veterinarian.
Large dogs won't be killed by a little bit of lime, but too much exposure can be harmful. So, try to keep all those limes away from your dog and find better alternatives to Vitamin C that won't negatively impact their health.