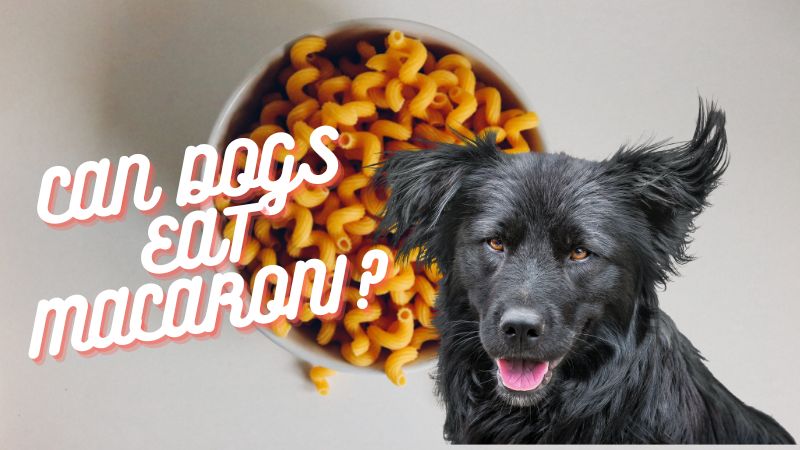 Can Dogs Eat Macaroni?
Macaroni is technically okay for your dog when given occasionally in small portions however making them a part of the dog's regular meal is not recommended.
Doubtless, macaroni is one of the most popular comfort foods worldwide.
However, it might be a concern for you whether to give a portion to your dog friend.
It would help if you did not feed your dog macaroni regularly for the reasons listed below.
Macaroni: is it suitable for dogs?
You can feed macaroni to your dog, but there are a few restrictions.
Make sure you serve them macaroni without salt and sauces. If the dish contains garlic or onions, avoid feeding it to your dogs, as these ingredients are toxic.
Also, it is strongly recommended that you not regularly feed your dog macaroni as it may lead to excess weight gain. If your dog is overweight or diabetic, follow your veterinary surgeon's guidance before including any new food in its diet.
It is safe for dogs to eat macaroni if they do not suffer from a wheat allergy or are sensitive to grains. Despite this, remember that this food won't fulfill their nutritional needs.
The carbohydrates in macaroni supply your pet with energy, but excessive amounts can harm them. This energy (along with other essential nutrients) can also easily be obtained by dogs through other high-quality dog food.
As a result, your dog can enjoy the occasional bite of macaroni, but it shouldn't become a regular meal. Macaroni is neither harmful nor toxic for pets; however, it is not a part of a normal balanced dog diet.
Can Dogs Eat Macaroni?
The 7 Best Ways to Serve Your Dog Macaroni?
A few guidelines should be followed when serving macaroni to pets.
Here are seven tips for treating your dogs to pasta.
Check with your vet – Make sure anything you introduce to your dog's diet is safe. A veterinarian can test for gluten and wheat allergies, and lactose intolerance since both are common in pasta recipes.
Don't give macaroni in large portions – Your dog's stomach will likely be upset if you feed him a large amount of pasta-so always give him this food in small quantities. The recommended amount of pasta is a cup a day; a cup a week is probably even more advisable.
Pasta should be sauceless – Do not add tomato sauce or other seasonings to your dog's pasta. Many ingredients in pasta sauces can upset your dog's stomach or even cause worse health problems (like pancreatitis or anemia).
Don't forget the salt content – Too much salt can damage your pet's digestive system. Cooking and serving pasta without salt is the best way to avoid this problem. This issue is more likely to arise when you use instant noodles instead of cooking something fresh.
If possible, choose rice – Plain pasta might be delicate, but brown and white rice can soothe your dog's stomach. Try chickpea, lentil, or whole wheat pasta recipes for more processed pasta.
Don't overdo it with cheese – Dogs generally love cheese, so a little on your otherwise plain noodles should not be a problem. However, large amounts of cheese can upset your dog's stomach, and fatty cheeses can make him gain weight.
The best way to serve pasta to dogs is plain – To keep your dog healthy, make plain pasta from simple ingredients. You can do your dog egg noodles, whole wheat spaghetti, or lentil-based macaroni with raw or cooked vegetables.
Can macaroni cause an allergic reaction in my dog?
Dog owners worry that macaroni could trigger an allergic reaction in their pets.
A typical macaroni recipe consists of flour, eggs, and water. Allergies can sometimes triggered by ingredients such as eggs and flour.
Skin irritation, loose stool, nausea, and excessive ear scratching are some of the dogs' most common wheat allergy symptoms. These symptoms also characterize gluten intolerance.
A veterinary professional must be consulted instantly if the dog exhibits abnormal behavior.
Conclusion?
Unlike humans, dogs have a different digestive system, so simply because a meal is healthy for us does not mean it is fit for them.
When given in moderation, Macaroni is safe for dogs; however, consider giving them other healthy options.
Put some fruits and carrots in their meal. Your dog's diet is essential if you want it to have a healthy stomach and a high energy level.
It is always wise to consult your veterinarian before giving your dog a new kind of meal. Dogs with happy stomachs have a more optimistic mood.