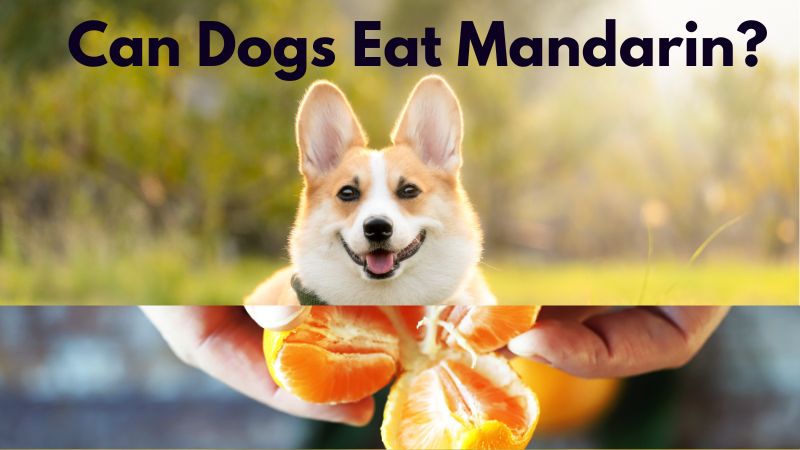 Can Dogs Eat Mandarin?YES, dogs can eat mandarin in small amounts.
Sharing some mandarin slices with your four-legged friends can be a good idea, so, yes.
But feeding should be done in moderation. I prefer to feed Mandarins to my dogs only on an occasional basis.
Keep reading to get detailed information about feeding dogs Mandarin oranges.
There are a couple of good reasons to let know why to treat your dog with this segment of fruit:
What is Mandarin?
Mandarin Orange- Citrus reticulata
Citrus reticulata is a moderately heightened tree and grows up to 7.6 meters. This tree is self-fertile (This means that pollination for fertilization occurs within the same tree). A healthy mature mandarin tree can yield up to 79 kgs of fruits.
Mandarins are compact, sweet citrus fruits that belong to the oranges category. Mandarins are considered the ancestor of oranges, limes, and grapefruit. A fully ripened mandarin would be orange in color.
The taste of mandarin is sugary and tangy. Mandarin can be eaten directly, squeezed to prepare juices, or mixed in your fruit salads, shakes, or smoothies.
Mandarins contain high levels of Vitamin C and are easy to peel, making them an excellent choice for lunchtime snacks.
Nutrients found in Mandarins?
Vitamin C – Contains plenty of vitamin C, which acts as an immune booster, and assists in fighting against infections. This antioxidant helps in several other ways:
Removing free radicals.
Supports healthy aging.
Reduces inflammation.
Veterinarians prescribe dogs suffering from joint pain or infections Vitamin C medicines.
Vitamin A – Besides protecting your dog's eyes, vitamin A enhances its vision and mucous membranes.
Minerals – Mandarins also contain essential minerals like zinc, potassium, manganese, magnesium, copper, iron, and Calcium. These minerals aid metabolic processes.
Sugar – Mandarins contain a high amount of sugar. Excess sugar intake can lead to tooth problems and increase the chances of obesity, diabetes, and other health problems.
Can Dogs Eat Mandarin? How to feed?
Before adding any new meal to your pet's diet, consult your veterinarian. Ensure the dog is not allergic to it.
Peel off the outer orange skin.
Mandarin fruit contains seeds. If treating your pet with mandarin, it is recommended to remove these seeds.
Next, cut the mandarin flesh into small chunks so it will be easy for your pet to digest them.
Don't give your dog the whole thing the first time you give your dog a piece of mandarin. Try with a small chunk and if they can consume it properly, then provide a complete article.
Those dogs who love mandarins will love this treat.
Do not feed mandarins to your dog if he is overweight, diabetic, or suffers from other sugar-related health problems.
Always remember that your dog should be well hydrated so that the citric acid can be easily washed off from the gut.
In the same way, we used to feed our babies their disliked fruit or vegetable by mixing them into smoothies or other meals so they would not miss out on the nutritional benefits. This can be done with pets by blending fruits and veggies with meals they like.
How do I deal with a dog that ate Mandarin by mistake?
One or two slices of mandarin will not harm your pet.
The fruit's dosage is determined based on the fruit size and the dog's weight.
Because vitamin C is water-soluble, if your pet is hydrated, he will not be able to deposit it in the body, and it will be flushed out through the urine.
However, if the dog has diabetes, the sugar content in the mandarin can cause problems.
It is highly recommended to take out the seeds and peel the mandarin before giving them to the dog.
If your dog has eaten an unpeeled mandarin, then it may result in GIT problems like vomiting, diarrhea, and stomach upset.
Mandarin peel is bitter and sour. Since the peel is relatively thick, your pet may have trouble digesting it quickly. The pesticides in this peel can be toxic to your pet's health and result in rashes or tremors.
You should consult your Vet whenever your pet feels uneasy or shows any illness.
Tip: It's recommended to keep the fruit bowl away from the dog's reach.
Can Dogs Eat Other Citric fruits?
Yes, but there are a few points to keep in consideration:
Firstly, all citric fruits have sugar in them, so check the health condition of your dog. If they are already overweight, skip the idea of giving it to them. Secondly, providing citric treats might cause stomach upset.
All fruits of the orange family are an excellent source of Vitamin C. So, so feeding them in moderation can boost your pet's immunity.
Mandarins are rich in Vitamin A, which helps boost the dog's vision.
The following are healthy alternatives to Mandarin
Grapefruits
Bananas
Blueberries
Conclusion
Dogs are not recommended to eat citric meals or regular treats since their digestive systems are not designed for them.
However, their bodies need antioxidants and vitamin C to strengthen their immune systems. So, giving only a tiny amount of mandarin to your pet occasionally is suggested.
If they show mild warning symptoms of uneasiness, start with home treatment like keeping them fully hydrated, stopping their meal for a few hours, etc. But if the issue remains, then talk to your Vet.
A physical examination and blood tests will aid the Vet in treating them properly.