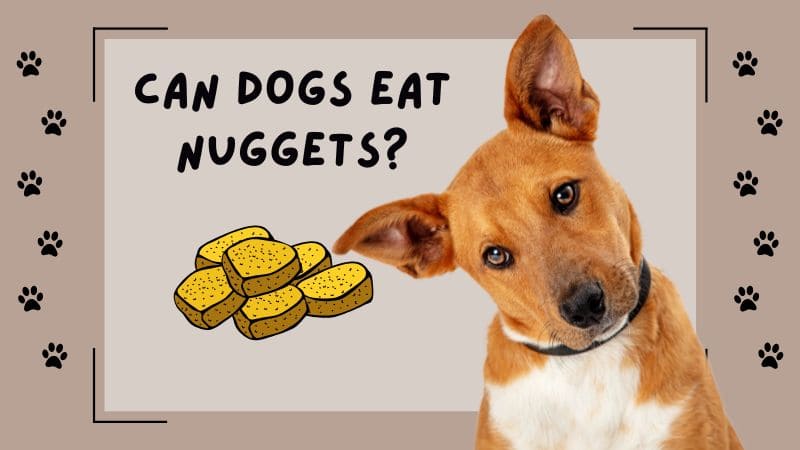 Can dogs eat nuggets?
There is nothing more irresistible than nuggets. One of the most widely consumed foods, they are easy to eat, crunchy, and delicious.
One might think about their canine friend while devouring a piece of nugget, and a question might pop into their mind about whether it's okay to share these nuggets with them.
This article has been written to help you find the answer to this query.
Nuggets may seem like a suitable snack for your dog, and they will undoubtedly love them, but simply because something tastes good does not mean it will also benefit them.
It is an undeniable fact that regular and excessive consumption of chicken nuggets negatively affects your dog's health in the long term.
You can still let your dog eat nuggets occasionally.
The protein in chicken is good for dogs, but regularly feeding them chicken nuggets can harm their health.
Also, nuggets contain too much fat and other unhealthy stuff that is unsafe for dogs.
Can dogs eat nuggets? What are chicken nuggets?
It's a tasty, convenient meal that can be quickly prepared.
A mixture of eggs and breadcrumbs is combined with flour to make these deep-fried nuggets.
Most fast-food outlets claim that their nuggets are made using high-quality chicken breast meat, and it's a very nutritious food item.
But the truth is that they often contain excessive amounts of fat, salt, and other unpleasant things that come with processed meat. Generally, a preservative, colorant, or artificial flavoring is included in this recipe.
Benefits of chicken nuggets for dogs?
Chicken nuggets are a high-calorie snack, and your pup hardly gets any significant nutritional benefit from their consumption.
Its negative effects on dogs' health hugely outweigh the benefits (if any).
Some people may counter this with arguments, such as the fact that they contain protein. But remember that the other harmful ingredients cancel out any advantages they might provide.
Also read: Can dogs eat chicken bones?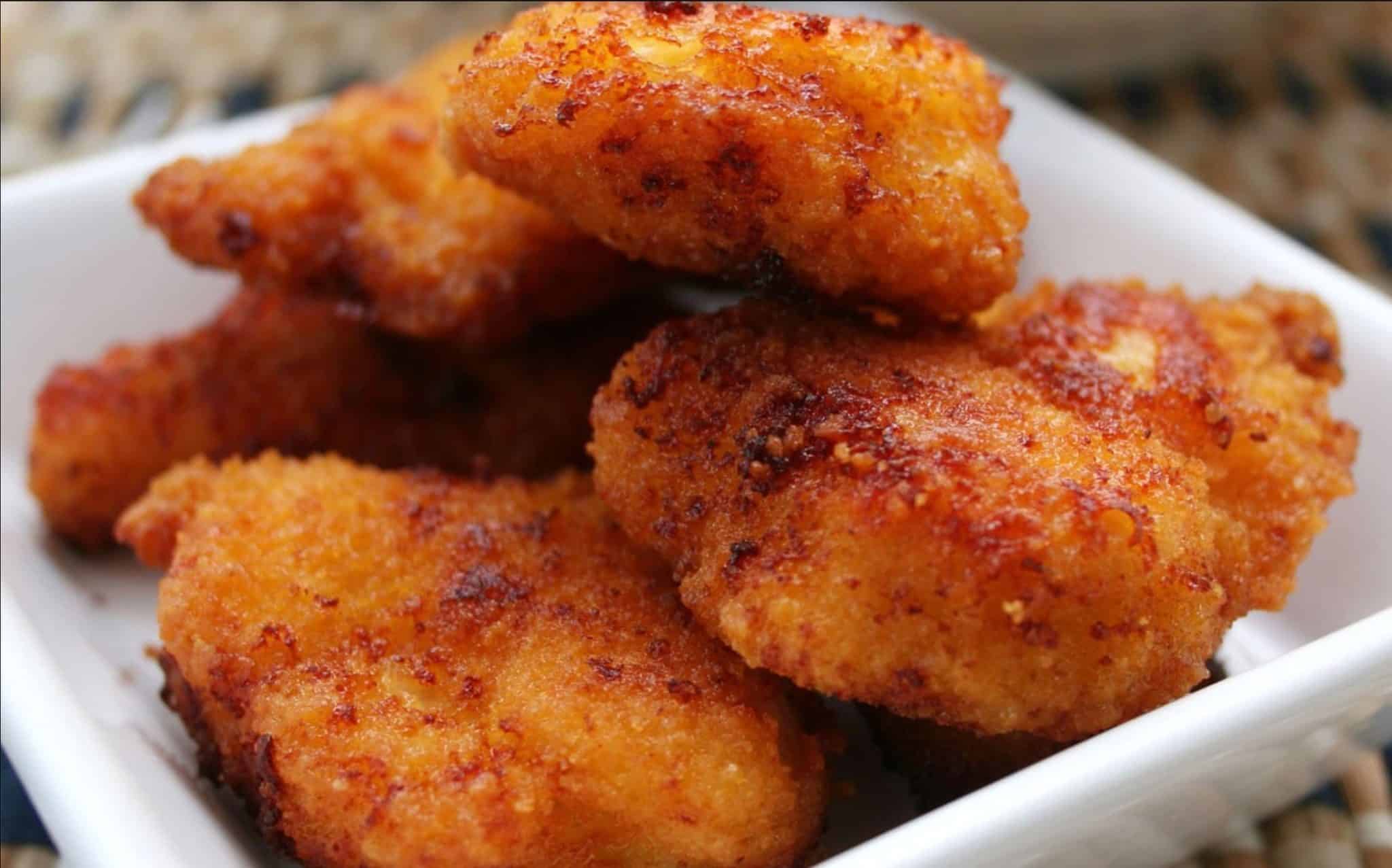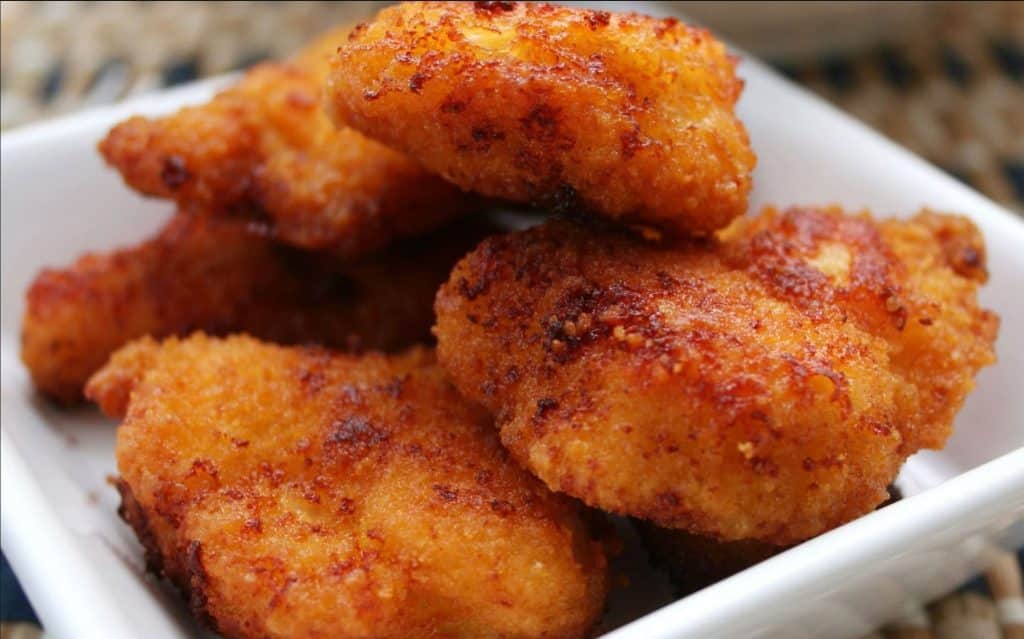 Are Chicken nuggets bad for dogs?
Dogs should be served a diet containing healthy amounts of fat and nutrients.
Chicken nuggets are high in fat and sodium.
Let's read below to understand the adverse effects of high-fat and high-salt food on dogs:
Consuming fat-rich foods can lead to
Fatigue
Obesity
Heart Issues
Diarrhea
Diabetes
Pancreatic Infection
Eating excess salt can cause
Dehydration
Muscle cramps
Hypertension
Heart disease
Kidney Diseases
Sodium Poisoning
The following reasons make chicken nuggets unsuitable for
Old-aged dogs
Dogs having sedentary lifestyles
Obese dogs
Dogs suffering from diabetes
Should I consult a doctor if I gave my dog a nugget?
A moderate amount of chicken nugget won't harm your dog.
Unless your dog has difficulty swallowing the piece and begins to choke on it, there is very little chance that he will experience any other serious medical problems following the consumption of chicken nuggets.
However, it is highly relevant to remember that prolonged consumption of chicken nuggets might be fatal for dogs.
Also check: Can dogs eat chicken salad
What can be a healthy alternative to chicken nuggets?
Many people give their dog nuggets as treats because they believe them to be healthy, which, as explained, is untrue.
They can replace this with many alternative items that are both healthy and delicious.
Plain chicken meat: A lean chicken meat snack makes for the perfect alternative. An organic and free-range slim chicken meat option is even better.
Your pooch's skin and coat will remain healthy when they eat lean chicken meat because it contains Omega-6, which is also essential for energy and building muscle.
Seeds and Nuts:  A dog's daily diet must contain healthy fat, which can be provided by offering seeds and nuts in the form of treats.
Flaxseeds, hemp, unsalted cashews, and unsalted/ unshelled Pistachio are some examples of seeds and nuts that are healthy sources of fat.
Healthy fats will boost your dog's energy and ensure the canine's body can absorb certain minerals and vitamins more effectively.
If you think about it, you will find that sweet potatoes, carrots, and pumpkins are all healthy, viable options for replacing chicken nuggets.
Conclusion
When you're eating fried food and accidentally look at your dog's eyes, you will find them pleading. However, despite their pleas, it would help if you don't give them the chicken nuggets you are munching on.
Whether you make your chicken nuggets at home from scratch or buy them at the store, they don't fall in the category of nutritious food. Any potential health benefits are permanently lost when they are battered and fried.
Your dog should not be fed anything fried, particularly anything that is highly processed. However, if you're travelling or out of dog food, you can offer your dog one or two nuggets.
Eating chicken nuggets regularly is not a good idea for you or your puppy. This won't be good for the dog's happiness and health in the long run.
Despite all this, occasionally giving your dog a piece of the chicken nugget is unlikely to affect its health negatively.
Your pets can live a healthy, long, and happy life if you feed them a nutritious diet. When unsure about anything, contact your veterinary professional. He will recommend what's right for your dog.