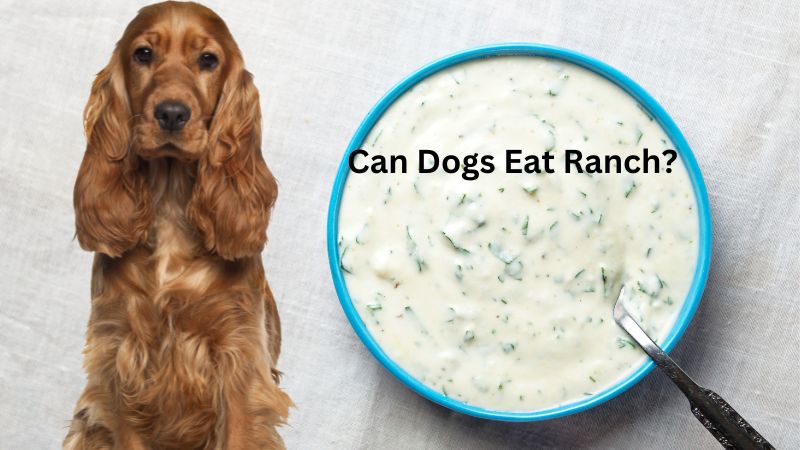 You probably have Ranch dressing in your salad, or it's your favourite dipping sauce. However, you may also wish to include it in your dog's bowl. But are dogs allowed to eat Ranch?
Generally, dogs are not advised to consume Ranch. The ranch contains ingredients and flavourings that do not appeal to dogs.
Further, the ranch is loaded with calories, sodium, and trans fats, which harm dogs.
Here is a guide to finding out how ranch dressing can affect your dog.
How is ranch dressing made?
This article will examine some of the most common ingredients in ranch dressing and their effects on dogs.
Buttermilk
Buttermilk is a dairy product, but it does contain a lower amount of lactose than regular milk, so if your dog is lactose intolerant, even a tiny amount of lactose can cause an upset stomach.
In ranch dressing, buttermilk is often mixed with salt and other additives that can irritate dogs.
Mayonnaise
Mayonnaise may not be toxic to dogs, but it's rich in lipids, which isn't healthy for them (or us). It is important to remember that too much fat in your dog's diet can lead to severe health problems such as heart disease, liver disease, and kidney disease.
Sour cream
Because sour cream is a dairy product containing lactose, it is likely to upset your dog's stomach because it is high in fat.
Powdered garlic, chives, and onion
These alliums are toxic to dogs since they belong to the Allium family. Even small amounts of these plants can cause haemolytic anaemia in dogs.
The body's vital organs can fail if the red blood cells do not deliver adequate oxygen, resulting in a fatal condition.
Harmful ingredients in a ranch for dogs
A mixture of garlic, chives, and onion powder
Toxic effects of allium include:
Yellowish or pale gums
Lack of breath
Fatigue
Vomiting
Irritable bowel syndrome
Appetite deficiency
A rapid heartbeat
If your dog ate garlic, chives, or onions, call your veterinarian immediately if these symptoms persist. If you need further advice, speak with your animal doctor right away.
Salt
In some cases, dogs can become ill when given too much salt, and even a tiny amount of salt can have serious consequences. A dog can succumb to sodium toxicity if they are not treated.
The symptoms of salt poisoning are as follows:
vomiting
Feeling lethargic
Insatiable thirst
Frequent urination
seizures
If your dog exhibits any of these indications, speak with your veterinarian immediately.
Mustard
The consumption of mustard by dogs can result in discomfort, stomach, vomiting, and dehydration. There is a possibility that it can irritate the lining of their digestive tracts.
Parsley
Your dog can safely consume Parsley in small amounts without causing adverse effects. However, it can be toxic to dogs at high doses due to its constituent furanocoumarin, which can harm your dog.
Dill
There is no doubt that the taste of dill is well-liked by many dogs. As dill is non-toxic and does not cause any harm to your dog, giving your dog some is safe.
How should I react when my dog eats Ranch?
First, note how many ranches your dog ate.
If your pet ate a couple of bites of Ranch, they should be fine. However, if your pet ate large quantities of Ranch, you should run to your vet.
Meanwhile, you should provide plenty of fresh, cool water for your dog. Make sure that the water is always readily available to your dog.
Frequently Asked Questions?
Can dogs eat Salad with Ranch?
It is not recommended for dogs to eat salads with Ranch dressing because ranch consists of various ingredients that are toxic to dogs. Dogs can become sick from it and suffer stomach upsets, onion poisoning, and even salt poisoning.
So, the salad you give your dog should be free of toxic ingredients.
Can dogs eat Ranch dressing?
Dogs are not allowed to eat Ranch dressing. Ingredients such as onion, garlic, shallots, and salt are known to cause poisoning if taken in excess. Furthermore, it is calorie-rich, fattening, and salty.
Can dogs eat Ranch seasoning?
It is not recommended to give Ranch seasoning or Ranch dressing to dogs. Several products on the market are harmful to our furry companions, so they should have stayed away from them.
Ranch seasoning is flavorful because of its spices, but it is also high in salt and fat, which is harmful to dogs.
Conclusion
It would help if you did not feed your furry friend's Ranch.  There is high sodium, calorie, and fat content in Ranch. Even though eating a small amount of Ranch won't harm your dog, excessive consumption can lead to the onion and garlic poisoning and sodium poisoning.
It is important to know that salt poisoning or garlic and onion toxicity can kill your dog if left untreated and lead to a fatal outcome.