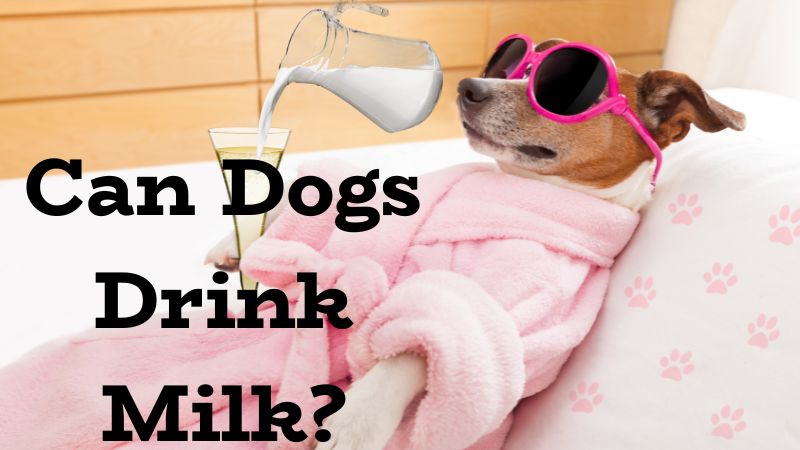 Can Dogs Drink Milk? You can give your dog milk in moderation, just like any other human food. Milk and dairy products are highly beneficial to humans. You can maintain the health of your teeth and bones by drinking milk, as it contains calcium and vitamin D.
Could our beloved four-legged friend also drink milk? Will they also benefit from the same? In short, yes.
It is common for dogs to consume dairy products.
Large quantities of milk or dairy products consumed by dogs over an extended period can cause several health issues. Some puppies are lactose intolerant and may experience stomach upset if they drink too much milk.
The following article will help you decide whether milk is a suitable food for your Dog, along with suggestions on how to offer dairy products to dogs in a safe way.
Dairy products for Dog
The consumption of dairy products can harm some dogs.
Lactose-intolerant dogs may have difficulty digesting milk, but cheese and plain yogurt are usually easier to digest.
Specially made dog ice creams might contain added sweeteners, but they are lactose-free and are usually xylitol (toxic for dogs). You can make healthier alternatives to these ice creams by freezing plain yogurt or kefir in ice cube trays. Before freezing, you can also add fresh fruit, peanut butter, or other sugar-free flavorings.
Over the years, cheese whey has been fed to domestic livestock, including dogs. Dogs can be given whey protein to enhance their athletic abilities. Consider a whey supplement for your Dog and adjust the Dog's diet as necessary. Several stores and farms sell liquid raw milk whey.
Types of Milk and their benefit to Dogs:
Nowadays, there are a variety of milk types to choose from.
Cow's milk: Cow milk provides abundant protein and calcium and is safe for dogs. It can, however, be a food sensitizer owing to its vast lactose percentage.
Goat's Milk: Goat milk is better than cow's milk. It has a high protein and low lactose percentage. Goat milk is slightly higher in calories and fat than cow's milk.
Lactating Dog's milk: Female lactating Dogs' milk supplements are usually sold as powders for dogs. A dog's immune system is boosted by colostrum, a nutrient found in a mother dog's milk. There are lactose molecules in the mother's dog milk.
Lactose-free milk: You can find specialty milk in grocery stores called lactose-free milk. This milk has been treated to remove lactose from it. It is a safe option for dogs who are lactose intolerant.
Plant-based milk: Oat milk, soy milk, rice milk, or almond milk are generally safe for dogs to consume. However, plant-based milk usually contains several other ingredients as well. Before feeding them plant-based milk, you should check the container for components that might harm dogs.
Flavored milk: Milk (lactose is natural sugar) appeals to dogs' sweet tooth. The problem is that flavored milk often contains high sugar levels or sweeteners toxic to dogs, like xylitol. Even flavored plant-based dairy should not be given to your Dog.
What is the recommended quantity of milk for my Dog?
You should add new human food to your Dog's diet in small quantities so their digestive system can adjust to it.
You should give your Dog a small quantity of milk every day for three days. It would help if you abstained from feeding them other dairy products for these three days. If your Dog doesn't display any problem symptoms, it can digest the milk properly. You can gradually increase the feeding quantity.
Due to milk's high-fat and natural sugar content, it would be best to feed your pup small amounts of the liquid at a time.
Can milk have side effects on my Dog?
Milk can cause stomach upset in some dogs about 12 hours after they drink it. The following reasons should also be taken into consideration before offering milk to them:
Lactose Intolerance

Milk contains lactose, which must be digested with lactase enzymes.
During the nursing period, puppies typically produce plenty of lactase needed for breaking down milk. As puppies grow up and are introduced to other dog food, their metabolism begins to decrease the production percentage of lactase enzyme, leading to lactose intolerance. Dogs have several types of lactose intolerance, ranging from mild to severe.
 The most noticeable symptoms of lactose intolerance are:
Loose stools
Gastritis
Nausea and vomit
Stomach pain
Bloating
Diarrhea
Dehydration
Lethargy
Inflammation of the pancreas

Dogs suffering from pancreatitis should not be fed high-fat foods.
Several dairy products, including whole milk, are high in fat, which leads to pancreatitis or inflammation of the pancreas.
The most beneficial thing you can do for a dog suffering from pancreatitis is to give him low-fat dairy products. The majority of the time, skim or plant-based milk will be more appealing to them.
Compared with whole cow's milk, whole goat's milk has a higher fat content.
Obesity:

One of the significant disadvantages of milk is its high-fat content. Your Dog's weight loss plan may be hampered when you feed them milk. Using fruits and vegetables suitable for dogs can be a great alternative in such scenarios.
Veterinary approval is required before giving your Dog any food or drink made for human consumption.
Conclusion
To conclude, dogs are capable of drinking milk and digesting it.
Among the essential nutrients in milk, calcium, potassium, Vitamin D, Vitamin B, and Zinc help keep your Dog's bones and teeth healthy. In addition, they help to keep their body in good shape.
Generally speaking, dogs can drink milk, but some have dairy allergies like humans. Be sure to determine whether your Dog is allergic to milk before giving it to him.
Other health concerns must also be considered before giving your dog milk. It is always a good idea to consult your veterinarian before introducing your Dog to a new food source, regardless of whether he has any pre-existing medical conditions.