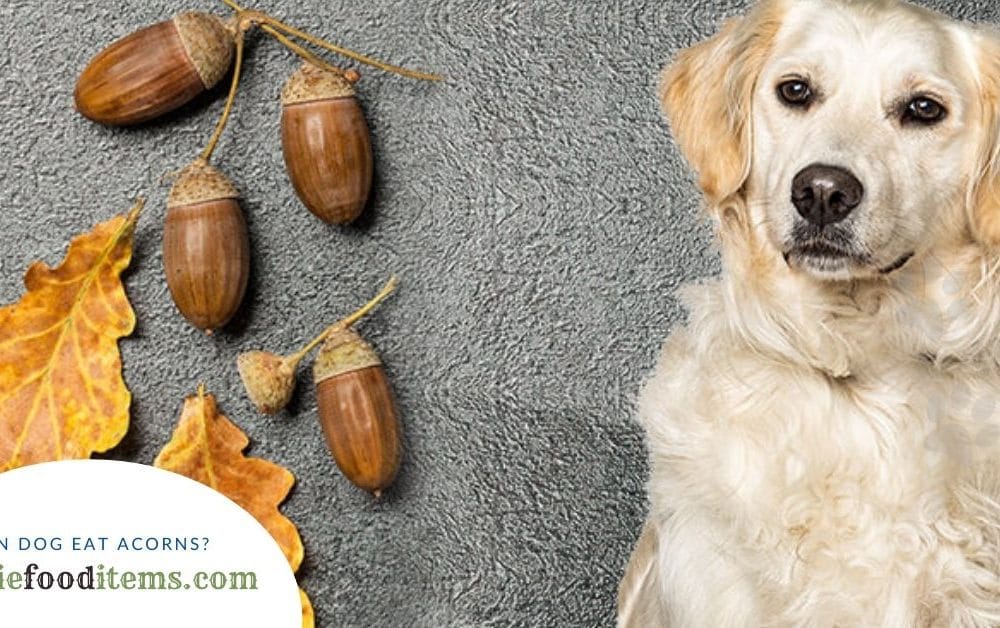 Can Dogs Eat Acorns?
While roaming around through the woods with your furry friend, you may observe acorns below an oak tree, but the question is, are acorns harmful to dogs, can they be dangerous, and what are the precautions if your dog eats them?
Residents of different parts of the US are confronting acorns and other types of buts falling to the ground. Every 2-5 years, mast years occur when abundant acorn crops, walnuts, and hickory nuts are suddenly available to chipmunks, squirrels, deer, and your dog.
Naturally, dogs are curious and eager y discover the world with their mouth and nose. They might grasp and eat the acorns if we let them; however, acorns are poisonous to dogs if ingested.
It is vital to go straight to your vet as soon as possible if your dog has eaten them.
Unluckily, dogs have no idea what they eat is dangerous for their health. Now look deeply into why acorns are poisonous for dogs, the symptoms of acorn toxicity, and how to stop the dogs from consuming acorns.
What is an acorn?
Do you have an idea acorn is a fruit? It possesses a woody and hard outer layer that protects a single seed present inside that grows to form an oak tree. Acorns are green in colour when immature, but as they ripen, they turn brown.
Around early autumn or towards the end of summer, these hard fruits mature fully and fall to the ground, ready to grow and form into a new plant or be consumed by your dog.
Why are acorns toxic?
Acorns and oak leaves come from Quercus sp. and have tannins and other compounds dangerous for dogs if consumed. The level of tannins is higher in immature acorns.
The result is an upset stomach, and, in the worst cases, kidney failure, liver damage, and even death may occur if the tannins and other harmful compounds are consumed by a dog in significant quantities.
Consuming complex and oversized acorns may result in internal blockage or damage to the gastrointestinal tract. The only solution to get rid of acorns that become clogged in the intestine or stomach is surgery.
Symptoms of acorn toxicity
Within a few hours, the symptoms of acorn toxicity may appear, and most of the signs are gastrointestinal.
Retching
Drolling
Vomiting
Abdominal pain
Diarrhoea
Lethargy
Inappetence
The symptoms' severity depends on the frequency and amount of acorn ingestion. There are more chances of toxicity if a dog has eaten many acorns.
Conclusion
During the fall season, it can be tough to keep a check on your dog and control him from consuming it when it will be scattered abundantly on the ground. To help distract them from eating an oak, bring toys and treats for your dog during a walk. Consult your vet if they accidentally consume acorns.
also read , almonds, almonds milk, milk
Frequently Asked Questions
Does my dog eat acorns for any reason?
Dogs are naturally curious creatures, and one of their favourite things is investigating the world with their nose and mouth. They may pick up and consume these acorns if they are allowed.
Can an acorn be too much for a dog?
Tannins can harm a dog's kidneys and liver over time, even if the animal consumes a modest amount regularly, such as one acorn daily. Or, if a dog consumes a larger quantity of acorns all at once, it may ingest sufficient amounts of tannins to become ill immediately.
Can dogs be attracted to acorns?
Acorns are a common fall sight that brings dogs into wooded areas to sniff around. Even though they might not seem dangerous to you, the dog owner, acorns and oak leaves could be bad for your dog's health.
Which nuts are poisonous to dogs?
Nuts that are dangerous for pets or that you should avoid
Macadamia nuts are very dangerous for dogs to eat.
Black walnuts are very dangerous for dogs.
Walnuts that are old and mouldy are very dangerous for dogs and cats.
Raw cashewsUnluckily, dogs have no idea what they eat is dangerous for their health. Now look deeply into why acorns are poisonous for dogs, are dangerous for cats, and should not be given to dogs.
Pistachios are bad for dogs and cats, so don't give them to them.
Is it okay for my dog to eat acorns?
Dogs that consume them risk developing severe illnesses, having their kidneys fail, and even passing away. If you suspect your dog has consumed acorns, contact your veterinarian immediately. "Putting off treatment might create damage that is irreversible."
Acorns can humans eat?
Raw acorns have tannins in them, which can be harmful to people and make them taste bitter. Also, horses, cattle, and dogs can get sick from them. But acorns can be made safe by teaching them to eliminate tannins.
Boiling acorns can dogs eat?
If dogs eat acorns, they will get sick. They have tannins and possibly other chemicals that can upset your stomach and, in the worst cases, damage your liver and kidneys or even kill you. They are also complicated and sharp, and if eaten, they can cause a blockage inside the body.
Is it safe to feed almonds to dogs?
Almonds are an excellent food for people to snack on. But can almonds be eaten by dogs? No, that's not true. Almonds may not be as dangerous as some nuts, but they are one of the foods that dogs can't break down, as well as people.
Are peanuts safe to eat for dogs?
The good news is that peanuts are not dangerous for dogs. But it's important to know that peanuts are high in fat and can be used safely in dog cookies and other treats. Fat is more challenging for dogs to break down than for people. A stomachache, like diarrhea or throwing up, can be caused by a lot of fat.