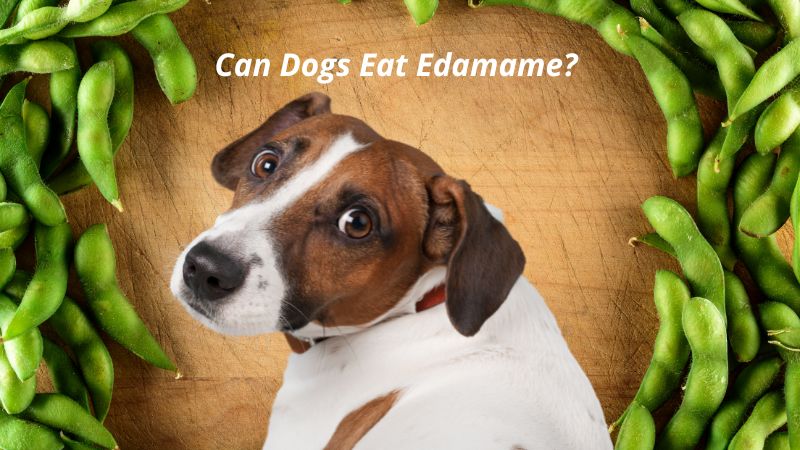 Can Dogs Eat Edamame?
During the hot summer season, edamame, one of the summer vegetables, is often served to us on the table. These Various cooked and frozen products are available in the market, and it is one of the most familiar vegetables. Now the thing is, What is the safety of edamame for dogs to eat? What Precautions should be taken, and what cooking method should be explained?
Are dogs able to eat edamame?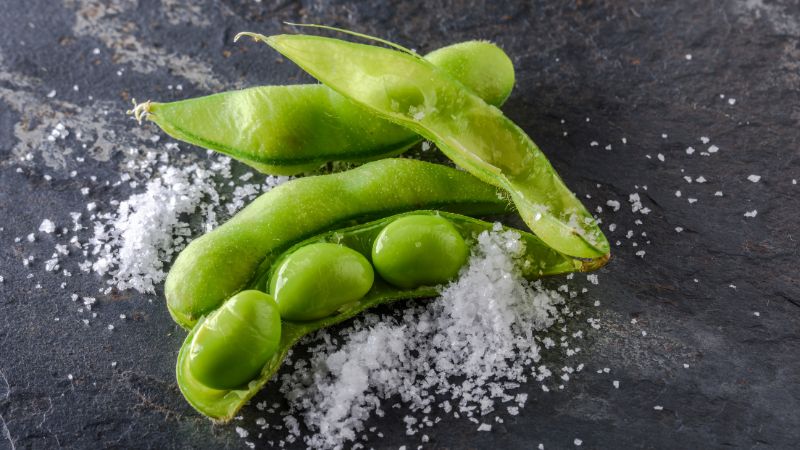 Your dog will not have any problems eating edamame.
Most edamame we consume is boiled with salt, which is unsuitable for dogs. Your dog will only eat salt-free food. The easy-to-use frozen edamame is also salted, so be cautious not to give it raw.
Benefits of feeding edamame to dogs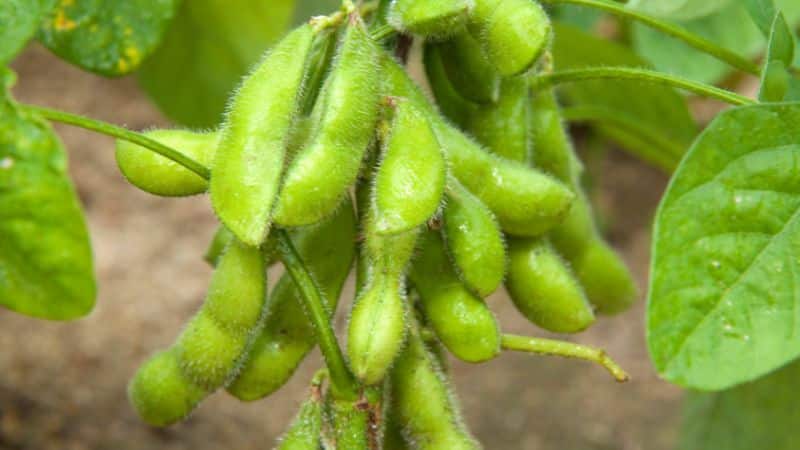 Edamame is a soybean harvested while it is immature and is classified as a green and yellow vegetable.
It is less than half the calories of soybeans, has higher nutritional value than soybeans, and can be expected to have various effects when given to dogs.
Vitamin C
The vitamin cannot be found in soybeans but is abundant in edamame.
An essential vitamin, it is antioxidant-rich and maintains good health. Vitamin C is a nutrient that dogs can produce in their bodies, but their production varies based on their physical condition and age, so they prefer to obtain it outside the body.
vitamin K
It contains a high amount of vitamin K. Lack of vitamin K leads to osteoporosis, which is key to forming strong and healthy bones.
In addition, vitamin K coagulates blood when it is bleeding, so it can stop bleeding.
protein
Many body parts require protein, including muscles, bones, and skin. Dogs need a protein-based diet to stay healthy, the most nutritious food they can get.
β carotene
Carotene is converted into vitamin A by the dog's body and has anti-oxidant properties, preventing aging and cancer in dogs. It enhances immune function and can prevent lifestyle-related diseases.
iron
For oxygen to reach all body parts, iron must transport it. The liver also uses it to detoxify itself and to store enzymes that restore the function of the liver. Regularly taking iron should make it adequate.
The best way to feed edamame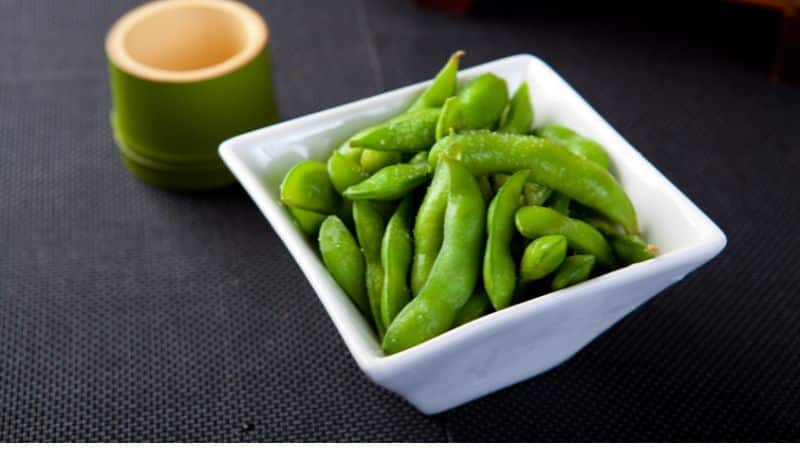 Daily dose estimated
Five kilograms of dog: 14×20 grains
For a 10kg weight: 23-30 grains
Edamame is an excellent source of nutrition but gives only a little. Edamame, potassium, and magnesium are particularly prone to causing hyperkalemia and stones if consumed too much.
Adjust according to the recommended amount after checking your stool and physical condition.
The method of cooking
Make sure you give edamame heated. Neither salt nor sugar is added when boiling. The water should be drained after cooking, and the beans should be removed.
Dogs can get indigestion from pods, so don't give them to your dog.
After removing the thin skin, beans are finely chopped, ground, etc. Pureeing is also recommended, using a food processor. Edamame that has been frozen should be removed from the salt. When the beans are thawed, remove them from the pods and soak them in water for 12 hours to get rid of the salt.
Only feed dogs' edamame by following these precautions.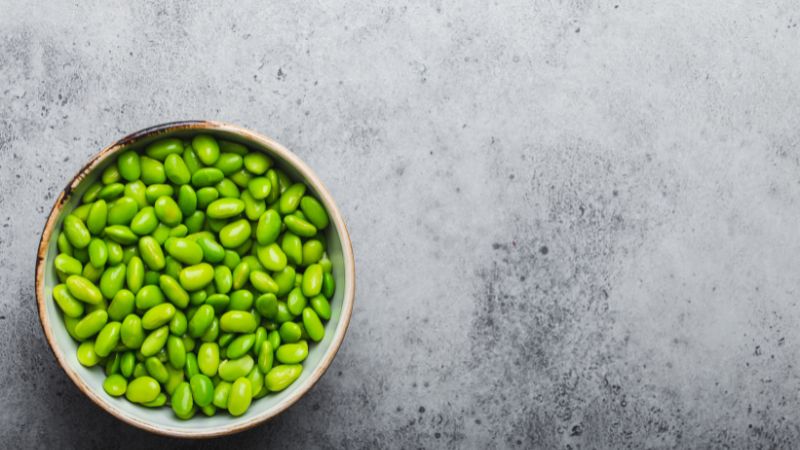 Pods, do not give skins.
Because the skin of pods and beans is thin, you should remove them before giving them.
You are unlikely to suffer health effects from eating the pods immediately.
If there is anything abnormal, such as feeling limp after eating a small amount or eating a large amount, contact your doctor immediately. In some cases, pods may not come out of the stomach, so surgery is necessary to remove them. Make sure not to consume it accidentally.
The thin skin is also prone to indigestion and is surprisingly hard, so peel them carefully before giving them.
Raw does not give
Edamame contains substances called trypsin inhibitors that inhibit trypsin (digestive enzymes).
When eaten, it can cause diarrhea, and it can also enlarge the pancreas. As a lost substance, it should be boiled before providing it.
There is a risk of soy allergies.
A soybean that still needs to be ripe is called edamame. It is not suitable for dogs with soy allergies.
Do dogs need to eat edamame daily?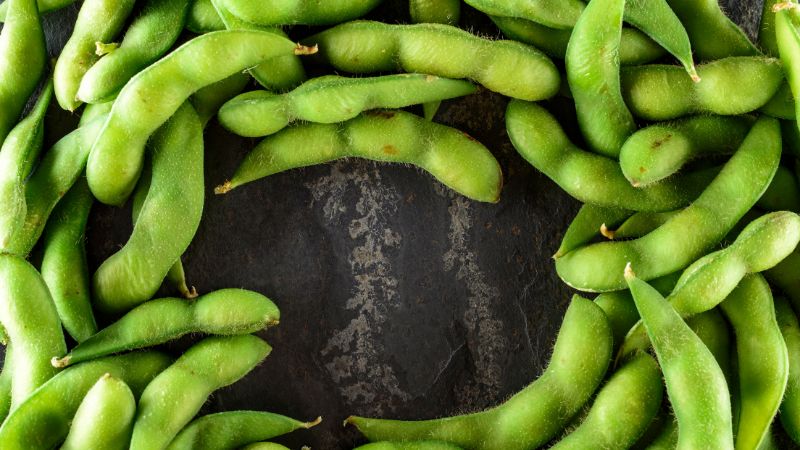 Some dogs love edamame.
Your dog might have eaten the edamame you left on the table for beer when you took your eyes off it.
Daily consumption, such as topping rice, is acceptable if it is done in small portions.
According to some people, the dog's paw smells of fragrant edamame.
A dog's sweat and bacteria on its paws may combine to produce this smell.
Can dogs eat edamame [skin] and pods?
You can feed your dog edamame peel (thin skin)!
Most people eat the beans with the whole skin without worrying about it.
Thin skin is rich in dietary fiber, and you can feed it to your dog along with the skin.
If your dog cares about them or you crush them, you can peel them thinly, making them easier to eat. The thin skin can be easily peeled after boiling well.
Please do not allow your dog to eat the edamame pods.
Dogs may experience indigestion and diarrhea after eating edamame pods, even when boiled.
Dogs rarely eat edamame pods or even pods, but they may accidentally eat them from trash cans.
The pods will not be digested and absorbed if your dog eats them, so observe to see if they appear in the poop.
Pods can also get stuck in the digestive tract if eaten in large quantities, so it's recommended that you visit a veterinary clinic.
Can dogs eat Frozen edamame?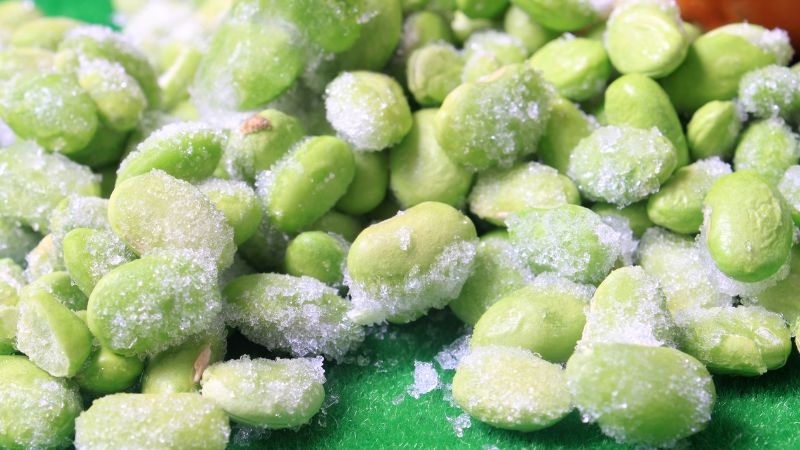 Edamame frozen after boiling does not pose a problem for dogs to eat it.
The problem is that many products contain salt to be eaten as they are after thawing, so in those cases, please do not feed them to dogs.
If you soak it in water and remove the salt before giving it, water-soluble nutrients such as folic acid will flow.
Can dogs eat Black edamame?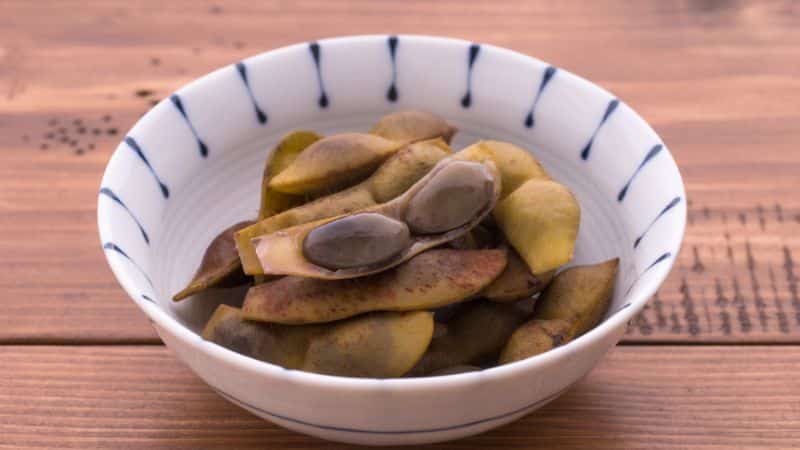 Yes, dogs can eat black edamame (black bean edamame)!
Black beans are one of the varieties of soybeans. Black color is due to the antioxidant anthocyanin, and nutritional components are not much different from ordinary soybeans.
Dogs can eat black bean edamame in the same manner and precautions as ordinary edamame.
You may choke if you give black beans as they are; one grain has more calories than regular edamame.
Can dogs eat tofu?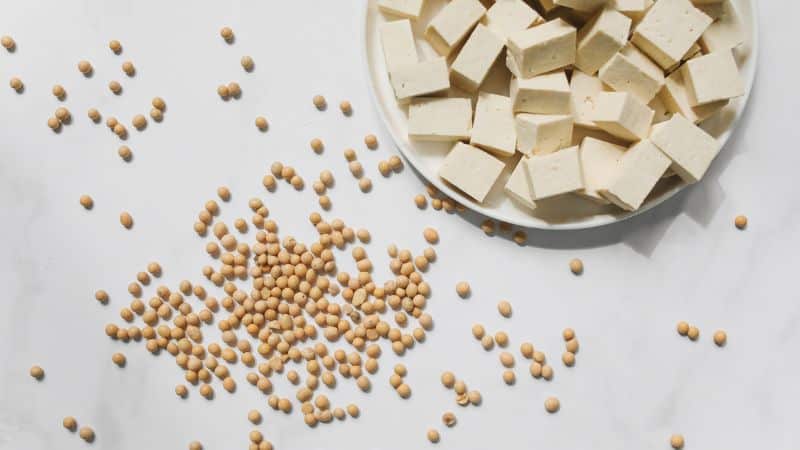 It is okay for dogs to eat tofu regularly! To make soy milk, soak soybeans in water, grind them, and add a coagulant to boiled and rubbed soy milk.
As the raw material is soybeans, a dog eating it will not pose any problems.
If I feed the dog edamame with salt, should I boil it?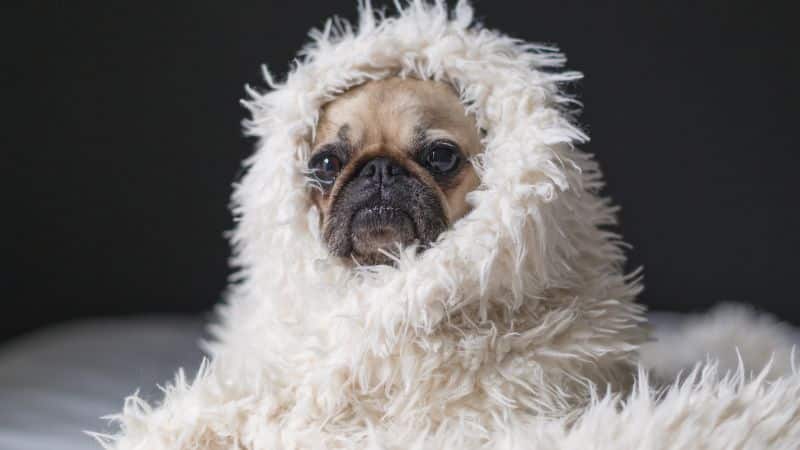 Edamame is usually boiled in salty water or sprinkled with salt after cooking.
Dogs should not be given salt-based boils since a salt-based spot will produce too much salt.
Boiling the human portion with it requires salting only after cooking. The water-soluble vitamins in edamame are denatured easily when exposed to heat.
Heating it quickly with a microwave oven or steaming it will reduce the loss of nutrients.
Can puppies and old dogs eat edamame?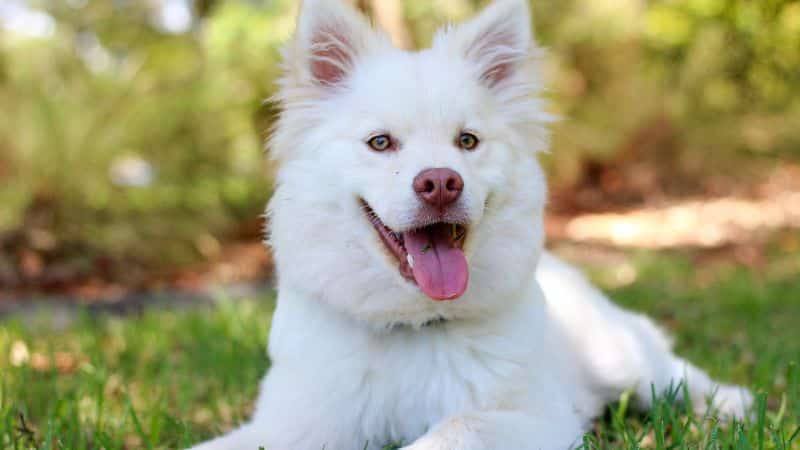 Puppies and old dogs are okay with eating edamame!
The problem is more prevalent in puppies and growing dogs because they eat poorly or swallow without chewing well.
For puppies, crush it well in a food processor before giving it.
Furthermore, puppies may have difficulty digesting and absorbing food.
If your stools are loose or you have diarrhea, stop giving them immediately.
Dogs that are old and elderly may experience a gradual decline in kidney function.
When overeating edamame, the kidneys will be burdened by the breaking down and excretion of amino acids.
Especially avoid giving it to dogs with kidney problems or kidney concerns.
Frequently Asked Questions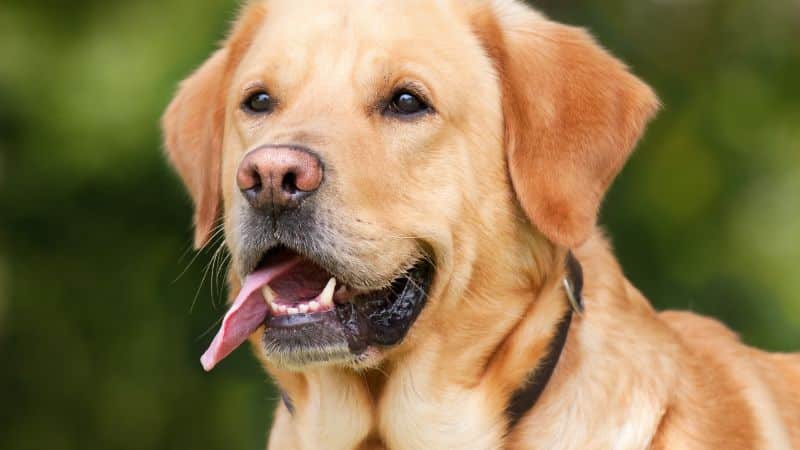 How does edamame affect dogs?
(1) [Protein source] Edamame: its features and effects.
There is no doubt that soybeans and edamame are essential ingredients as protein sources.
When it comes to dry food, soy is often used.
Boiled edamame contains about 70% water, while 10% of the remaining 30% contains protein.
Is it safe for dogs to eat cooked edamame?
The plain variety of edamame beans is fine for most dogs and is not toxic in small amounts. There are many ways to eat them, including raw, steamed, cooked, or frozen.
Can dogs eat edamame skin?
Can dogs eat the shells of Edamame? That's not right! Only give your dog edamame shells if you want to stay healthy. This bean portion is hard to digest because it is called the skin or pod.
How many edamame beans can a dog eat?
Dog treats consist of one to five unsalted, out-of-shell beans for your four-legged friend. Remember that edamame or other veggies should make up less than 10% of your dog's overall diet.
Are soybeans toxic to dogs?
Dogs can eat soybeans without suffering any harm if you catch them eating soybeans.
As a result, they are not dangerous to your dog's health. Using soybeans in moderation can give your dog many hidden health benefits. Soybeans are high in protein.
Can dogs eat other vegetables?
Dogs can eat carrots, broccoli, kale, green beans, peas, napa cabbage, Potatoes, and beets. Feeding your dog pumpkin to soothe its digestive system is also possible. Nevertheless, it is best not to provide your dog with onions, asparagus, mushrooms, garlic, or chives.
Summary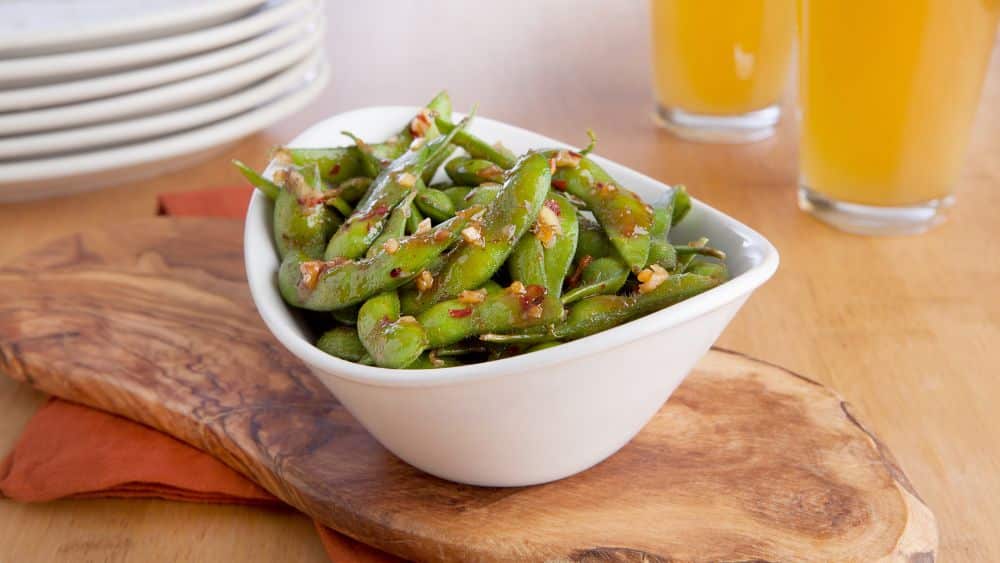 When given to dogs, it requires unexpected preparation, such as salting or thinly treating.
However, it is a nutrient-rich, wholesome ingredient with abundant beans and vegetables, so take advantage of it.
You can also enjoy seasonal edamame to nourish your mind with your dog.