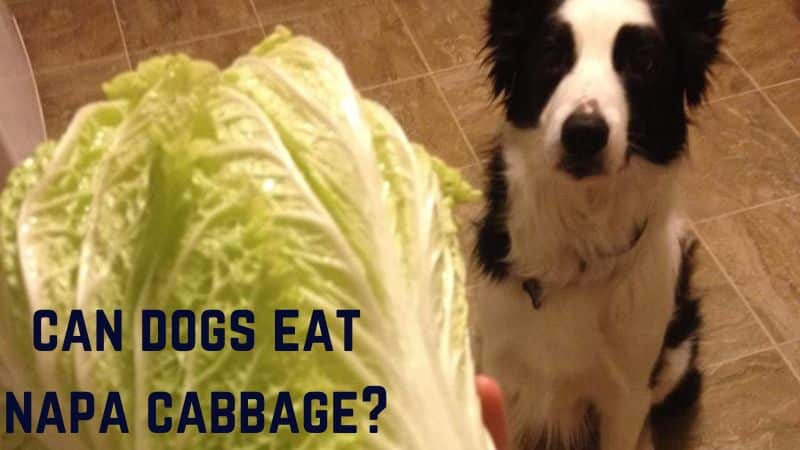 Can Dogs Eat Napa Cabbage? The answer is yes.
It is a kind of cabbage that was initially cultivated in China.
Recently, it has gained popularity in other Asian countries and world cuisines. There's a high chance that you'll be able to find this cabbage at your local grocery store no matter which part of the world you are in!
Compared with regular cabbage, napa cabbage leaves are slightly longer. Additionally, there is a slight difference in the head of the cabbage, which in the case of napa is a little wider, with leaves that are pale green and white.
This cabbage is well known for its high antioxidant and fibre content. Additionally, they provide other essential nutrients such as folic acid and vitamin C.
Although eating these vegetables is safe and nutritious for humans, one might wonder whether we can also share them with our tail-wagging friends.
The answer is yes. When given in moderation, dogs can safely consume napa cabbage and other varieties of cabbage.
According to veterinary professionals, you should only feed your dog cooked napa cabbage (without seasoning) rather than raw cabbage.
This article aims to provide you with all the need-to-know information before feeding your dog napa cabbage.
How to feed Napa cabbage to dogs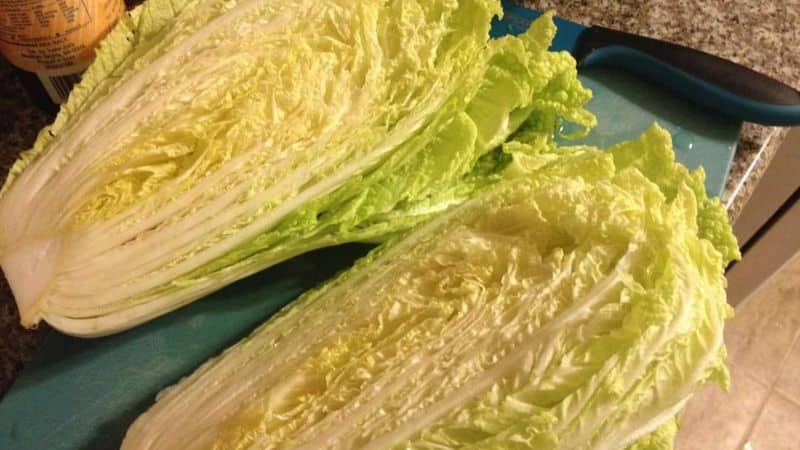 When introducing a new food, begin the feed with a tiny amount and monitor your pet to ensure they don't react adversely before moving to more significant portions.
Although it is possible for your dog to eat raw napa cabbage, its harms outweigh any benefits.
Dogs can be fed Napa Cabbage in the following ways
Make sure the cabbage is fresh.
Wash fruits and vegetables properly to remove any pesticides or unwanted toxic substances.
Check out if any part shows a sign of decay. Whenever you see such a part, please remove it.
The vegetable should be cut into small pieces using a knife so the dog can chew it easily.
Cook the vegetable in a pan, or use a steamer. When you boil or steam napa cabbage, the fibers become soft and less complicated for the dog to digest.
Please do not add any seasoning or ingredients like salt, onion, and garlic, as they harm dogs.
Now, the cabbage is ready to be offered as a stand-alone dish, or you can also mix it with regular dog food.
Health benefits of Napa cabbage for dogs
Generally, dogs benefit from feeding on all kinds of cabbages. A quick look at some of the health advantages napa cabbage provides to your dog:
It offers mostly all the essential vitamins (B9, C, K, etc.) and minerals (manganese, calcium, copper, iron, etc.) that a dog's body requires for daily functioning and avoiding diseases.
As a result of the abundance of different vitamins and minerals, dogs' fur remains healthy.
Also, dogs who consume napa cabbage regularly have more healthy and hydrated skin due to its high water content.
Napa cabbage is rich in dietary fiber, which aids food digestion. Dogs benefit from dietary fiber because it prevents constipation by helping to pass stool easily.
The antioxidant content of Napa cabbage is high. The body uses antioxidants to eliminate harmful radicals from your dog's body, which helps prevent diseases such as cancer.
Side Effects associated with feeding Naapa cabbage to dogs:
Although it may seem like a great idea to introduce this cabbage to your pet, it's possible that they won't enjoy it and will avoid eating it altogether.
Dogs who eat Napa Cabbage may suffer from the following side effects
Dogs may experience indigestion if they eat raw napa cabbage. Also, raw cabbage is hard, and small dog breeds might find it difficult to chew or even choke on it.
Dogs can develop hyperthyroidism (Thyroid disease) due to the toxin thiocyanate in raw cabbage.
A diet high in napa cabbage can make your dog feel gassy or cause diarrhea and vomiting.
A cabbage dish seasoned with spices, onions, garlic, or salt can harm dogs. Your pet may experience an allergic reaction because of this.
As such, you should feed your dog cooked and unseasoned napa cabbage.
Also, a check can dog eat nuts and seeds
The verdict is in!
Many dogs will likely enjoy a healthy napa cabbage dish; however, ensure to limit the portion size.
It can promote your dog's overall physical wellness as it is a good source of several nutrients essential to your dog's health.
Taking care of your pets means feeding them correctly and appropriately. Adopting a healthy diet plan is the most efficient method for keeping your dog happy and healthy.
If you notice a problem symptom or your pet seems distressed, it is always a good idea to consult a veterinarian.