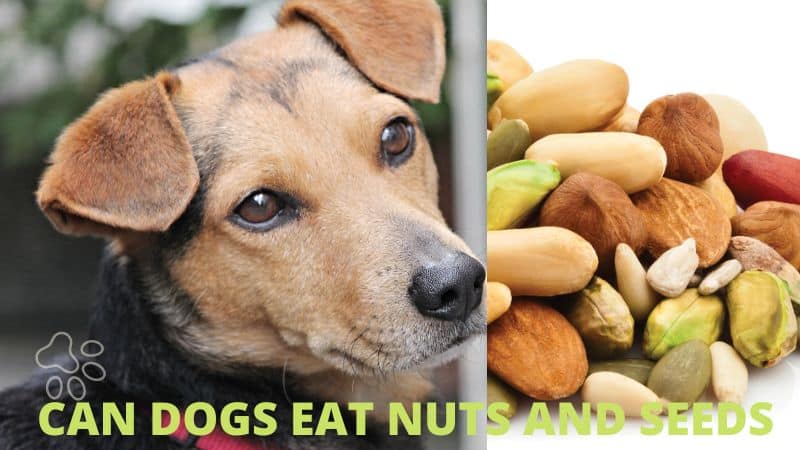 The health benefits of nuts and seeds make them a worthwhile addition to the diet.
They are a good supplier of nutrients such as Iron, Calcium, and essential fatty acids, which help lower cholesterol, reduce inflammation and promote a healthy heart.
Nuts and seeds help fill up and process digestion well throughout the body. They are high in fibre as well.
As a pet parent, one would be curious to know whether a dog can eat seeds and Nuts. Now the question can dog eat nuts and seeds,
two answers can be given: yes and no.
Even though nuts and seeds can be healthy for dogs, they have serious health risks too. Understanding the advantages and disadvantages of your pet's diet can help you plan it well.
Why Are Nuts Beneficial for Pets?
Nuts are highly rich in nutrients. Some of the benefits they can provide are listed below:
Pets require a lot of proteins. Consuming nuts will help in their growth and serve proteins in abundance.
As nuts are rich in fibre, they help reduce constipation issues in dogs.
Nuts consist of a high source of Vitamin C, which improves pets' immune systems.
Nuts also contain vitamins B1 and B2, which are beneficial in reducing fatigue and stimulating appetite.
Potassium, Iron, and Copper can also be found in them, which are helpful for your dog's body.
It is essential to note that nuts contain healthy fats that your dog's body requires to maintain optimum health and wellness.
Nuts safe for consumption by Pets:
Nuts should only be given with extreme caution, and you need to ensure that you monitor your pet in case they choke on one.
Despite the 'safe' status of the following nuts, do not overfeed your pet.
1. Peanuts
Dogs can eat raw, unsalted peanuts—no problem feeding your dog a peanut or two.
Essential nutrients in peanuts include Proteins, Copper, Phosphorus, Manganese, Niacin, thiamin, Folate, and Vitamin E, which are helpful specifically for your dog's skin, coat, heart, digestion, and brain.
Excessive consumption of peanuts can harm dogs due to their high-fat content. Make sure you serve this snack in tiny portions.
2. Cashews
Cashews aren't the healthiest snack choice; however, they are non-toxic and can be safely given to dogs.
Nutrients found in cashews are beneficial to dogs. There are a variety of Vitamins,
Minerals and fatty acids in cashews include Vitamin C and Vitamin K, Calcium, Magnesium, and Phosphorus.
It also has antioxidants, omega-3 fatty acids, and Omega-6 fatty acids.
Nutrients such as these support the health of skin, coat, tissue structure, heart function, and the growth and development of muscle tissue in animals.
The high-fat content of nuts can harm dogs if eaten in large quantities and cause serious health issues. So, cashews should only be fed in a small amount.
3. Pistachio
Although pistachios are non-toxic, there are certain risks associated with giving them to your dog.
Adding moderate amounts of unsalted, unshelled pistachios to your dog's diet poses little risk.
As with many nuts, pistachios are high in fats and calories, which harm dogs. In the long run, consuming too many pistachios or other high-fat foods can make your dog prone to obesity, gastrointestinal disorders, and pancreatitis.
There is a high possibility of intestinal blockage in dogs if they consume pistachio shells.
There is also a possibility that dogs may suffer from pistachio poisoning if a mould called Aspergillus is present in the consumed pistachios. As a result of its aflatoxins, the mold will result in loss of appetite, tiredness, nausea, liver damage, and even death if consumed in large quantities.
Can Nuts Harm Pets?
A flaw always accompanies the good. It is the same when you feed nuts to your pet.
It is essential to remember that nuts contain a lot of calories. Weight gain can be caused by feeding excessive nuts to your pet.
The fat content of nuts is high. Consuming too many could cause pancreatitis.
The dangers of choking in pets associated with some nuts are well known. Keep dogs away from these nuts at all costs.
Some nuts are high in fibre. High fibre content is hard to digest and can upset your dog's stomach.
Nutshells- If consumed, the outer covering of the nuts can cause damage to the lining of the stomach and intestine.
Pets can be adversely affected by certain coatings on nuts. For example, some nuts are heavily salted. The consumption of excessive salt can lead to the accumulation of sodium ions in the body resulting in sodium poisoning.
Nuts un-safe for consumption by Pets:
1. Macadamia Nuts
It is advisable not to provide macadamia nuts to dogs. Researchers are yet to know why Macadamia nuts adversely impact dogs' health.
But the bottom line is that Macadamia nuts are toxic and have a quick reaction on dogs.
The following symptoms are caused by macadamia nut poisoning:
A weakness of the muscles, especially the hind legs, as well as lethargy
Coordination issues
Diarrhoea
Tremors
Vomiting
Fever
2. Walnuts
Like pistachios, walnuts are susceptible to mold. Tremorgenic mycotoxins produced in moldy walnuts can be fatal for dogs.
Black walnuts are particularly dangerous to dogs. While English walnuts pose less risk, these hard nuts may cause blockages in dogs' intestines.
Symptoms of walnut poisoning include:
Vomiting
Saliva that exceeds normal levels
Tiredness
Stomach-ache
Anxiety
Seizures
3. Almonds
Almonds aren't suitable for dogs.
They are not toxic for dogs but pose a choking hazard, especially for pups. They can not only block the windpipe or esophagus but can also lead to blockage of the intestines.
Dogs can also get sick from almonds. The symptoms include:
Feeling sluggish
Throwing up
Gastritis
Appetite loss
Feeling uncomfortable
4. Hickory nuts
It should be avoided for all types of dogs.
They can choke dogs and often cause intestinal blockage, especially when swallowed as a whole.
Certain molds on these seeds carry tremorgenic mycotoxins that could cause neurological issues such as seizures or tremors.
5. Pecans
Despite not being directly hazardous, they can form mold, just like walnuts. Your dog may suffer from seizures and nerve damage if exposed to even a tiny amount of these molds.
Additionally, they can cause gastrointestinal distress and blockages.
6. Brazil nuts
While these aren't toxic, they're challenging to digest and contain a lot of fat (one of the fattiest foods). Dogs suffering from Hyperlipidemia (high blood fat levels) or pancreatitis can face many problems after consuming these nuts.
Can dogs eat seeds?
Most seeds that we include in our diet are also healthy for dogs. It is recommended to feed dogs raw, unsalted seeds.
You can sprinkle them on dog food or add them to home-cooked meals; usually, your dog will love these healthy, nutritious treats.
Multiple micronutrients can be found in seeds: fiber, protein, amino acids, fats, minerals, vitamins, and others.
For seeds to be beneficial to your dog, they usually need to be grounded, and some should also be refrigerated to prevent rotting.
Seeds like flax, pumpkin, sunflower, hemp and chia are already added to some dog foods to help condition their coats.
While it is true that dogs can safely eat many seeds, the same doesn't apply to all seeds. Seeds like those found in Apple contain cyanide, and even poppy seeds are poisonous to dogs.
You'll have to remember that many seeds are high in calories and are packed with energy. So, it would be best if you gave them in small quantities, especially in cases where the dog is overweight or has a condition like pancreatitis.
It would be best if you experiment by giving your dog a small quantity of one variety of seeds at a time. You must do this to know how your dog reacts to each type and if they have any allergies to any particular variety.
The following seeds can be safely added to a dog's diet:
1. Quinoa & Amaranth
Thousands of years have passed since these "ancient grains" were cultivated.
In terms of amino acids, amaranth contains all nine amino acids making it a nutrition-packed food for the dog.
Protein-rich quinoa is a nutritious substitute for corn, wheat, and soy.
Avoid feeding quinoa to dogs suffering from arthritis or kidney problems since it is high in naturally occurring oxalates, which can worsen their conditions.
2. Chia & Flax Seeds
Anti-inflammatory compounds are found in high quantities in flax and chia seeds.
The chia seed boosts dogs' immune systems and helps maintain electrolyte balance.
3. Sesame Seeds
These seeds are a rich source of a wide range of minerals. They also have antioxidants that help prevent various diseases, including reducing cell damage.
Your dog will also benefit from their vitamin E content.
4. Pumpkin & Sunflower Seeds
Both are rich in antioxidants.  These antioxidants help fight and destroy the harmful radicals in the dog's body, thereby preventing fatal diseases such as cancer, heart ailments, etc.
5. Hemp Seeds
An easy-digesting, high-protein seed that is high in fiber and low in calories. This seed will helps support the dog's immune system.
Conclusion:
Although some nuts and seeds are undoubtedly healthy for your dog, there are a few exceptions.
Always remember that every dog is unique, and the same goes for their food preferences. So, if your dog isn't crazy about one seed or nut, try another variety. The joy of life lies in trying new things.
Note: A veterinary professional should be consulted prior to adding any new food to your dog's diet. They can help you prepare a healthy diet plan. Also, they can suggest the appropriate quantity to be served based on the dog's weight, size, breed, and medical history.
If your dog eats a toxic nut or seems unwell after swallowing a nut or a seed, you should contact your veterinarian immediately.