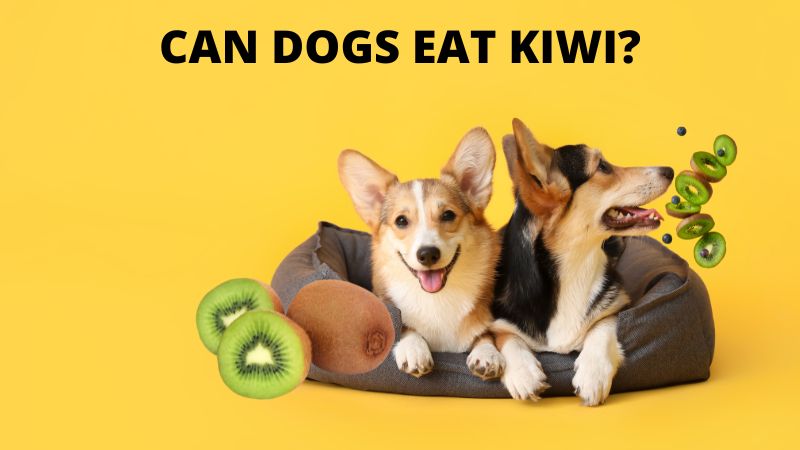 CAN DOGS EAT KIWI?
A few points to consider when consuming the Kiwi, also known as kiwifruit or Chinese gooseberry. If you choose to feed a kiwi fruit to your pet, it should be a rare treat so your dog can benefit from the fruit's nutrients and vitamins. Feeding kiwis to your dog in large quantities or too often can cause more than a few adverse effects, including constipation and obesity.
It's recommended to weigh the pros and cons of Kiwi and other fruits before feeding them to your dog. If you're wondering whether dogs can eat Kiwi, the answer is yes, although there are pros and cons.
WHAT ARE KIWIS?
This fruit is one of those fruits that packs a lot of flavors and also contains many vitamins, minerals, and potent plant compounds. The kiwifruit, or Kiwi, is originally from mainland China and Taiwan but is now grown commercially in New Zealand, Italy, Greece, etc.
The kiwi fruit belongs to the berry family of plants. Actinidia delicious and A chines are the two most commonly consumed kiwi species. One of the most popular kiwis is the Hayward kiwi, a green kiwi named after Hayward Wright, who popularized kiwis in New Zealand during the 1920s. Hayward kiwis are oval and about the size of a large hen's eggs. Its brown skin is covered with fuzzy brown fibers, while its green flesh is covered with tiny black seeds.
There are also varieties of Kiwi with yellow/golden flesh. Compared with yellow-fleshed kiwis, green kiwis have chlorophyll, while yellow kiwis do not. The kiwi berry is not the same species as the kiwi fruit.
Though they belong to the same plant family, Actinidia, Kiwi berries have edible, grape-like skins. A kiwi has a larger size and thicker, fuzzy skin. It is recommended to peel off the skin of most varieties of kiwis before eating them. People prefer eating the skin of yellow or golden kiwi varieties because they are softer than green kiwis.
Nutrition in Kiwis
Kiwis have an impressive nutrient profile.
3.5 ounces (100 grams) of raw, green kiwi flesh contains the following nutrients:
Calories: 64
Carbs: 14 grams
Fiber: 3 grams
Fat: 0.44 grams
Protein: 1 gram
 83% of the Daily Value (DV)of vitamin c
Vitamin E: 9% of the Daily Value (DV)
Vitamin K: 34% of the Daily Value (DV)
Folate: 7% of the Daily Value (DV)
Copper: 15% of the Daily Value (DV)
Potassium: 4% of the Daily Value (DV)
Magnesium: 4% of the Daily Value (DV)
Kiwis are exceptionally high in vitamin C.
The benefits of Kiwis for dogs
Kiwi is packed with beta carotene, folate, and lutein as an excellent source of antioxidants. These antioxidants boost Dogs' immune systems, which protect their cells against free radicals.
Kiwis are rich in vitamins A, C, E, and K, which benefit humans and dogs. The nutrients in these foods are essential for maintaining healthy skin and circulatory systems, among other things. Moreover, kiwis contain minerals such as potassium and calcium. The organic compounds in these minerals enhance dogs' muscle growth and maintain their bones' strength and density.
Kiwis contain a high amount of fiber compared to other fruits. Your dog's digestion can be regulated by insoluble fiber. Kiwi also has actinium, a digestive enzyme that helps dogs break down protein and nutrients in the animal's regular dog food or kibble.
Is Kiwi good for dogs?
Can dogs eat kiwi fruit? Yes. Kiwis are loaded with:
Potassium
Vitamin C
Fiber
Vitamin E
Nutritionists
Folates
Antioxidants
However, the small amount you could give your dog as a treat won't impact their health.
Dogs and Kiwis: Health Risks
Chopping Kiwi into small pieces or limiting its consumption to occasional treats does not make it safe for dogs. Dogs that are allergic to kiwis or who are fed too many kiwis may develop several health problems.
Small dogs can choke on large pieces of Kiwi if they have narrow throats. It would help to cut a kiwi into bite-size pieces before feeding it to your dog. The smaller the portion, the easier it will be for dogs with sensitive stomachs to digest the fruit.
Dogs can suffer from constipation or intestinal blockage caused by Kiwi skin. A condition like this can cause your pet discomfort, making it difficult for them to pass solid waste. If the backup does not improve or you leave it untreated, it can lead to adverse health conditions like constipation and mega-colon.
You should avoid feeding your dog kiwi regularly since it contains excessive sugar and calories, which may lead to weight gain and several health concerns related to obesity. Overweight dogs may also experience hip and joint problems, resulting in immobility.
faq
What kind of fruit can a dog eat?
Your dog can eat the following fruits without getting sick:
What Fruits Are Not Good for Dogs?
There are a few fruits that your dog shouldn't eat. Do not give your dog any of the following:
This fruit is toxic to dogs because it contains persin, which causes them to get sick and have diarrhea.
Grapes have the potential to induce acute renal failure in dogs. Remember that raisins are just dried grapes and should be avoided as well.
Cherry pits have cyanide in them. It is usually not dangerous if a person accidentally eats the whole seed. However, if a dog chews on the source, it releases cyanide, which could hurt the dog.
The solanine that causes toxicity in dogs can be found in the green sections of the tomato plant.
What Fruits Are Healthy for Dogs?
Even if something isn't dangerous for your dog to consume, that doesn't mean that eating a lot of it is necessarily beneficial to their health.
Blueberries are one type of fruit that is considered to be helpful for dogs. Due to the high levels of antioxidants and fiber that these berries contain, they benefit your dog's digestive system.
If your dog wants to shed a few extra pounds, this might be the perfect food for them. They have an abundance of vitamins but only a tiny amount of carbs.
This fruit is healthy for your dog if you cut off the rind and remove the seeds before feeding them.
This food has a lot of vitamin A, vitamin B-6, and vitamin C. It also has a lot of potassium. It is also a great way to stay hydrated on hot summer days because it is mostly water.
What fruit can dogs have daily?
Are dogs able to eat fruit? The vast majority of dogs can happily consume fruits. Certain fruits, such as bananas, apples, strawberries, and blueberries, can offer some nutritional variety to a dog's diet while also serving as a treat that will make them feel good. Unlike many manufactured sweets, fruits still retain their nutritional value.
CONCLUSION
It is safe for dogs to eat bite-sized pieces or thin slices of Kiwi fruit after removing the seeds and skin. Kiwi as dog treats should be in moderation and not exceed 10% of your dog's daily calorie intake.
When introducing new food to your canine friend, consult your vet first. Depending on your pet's health history, certain foods may have a negative effect when combined with specific health issues or medications. It is essential when your dog suffers from diabetes or kidney disease. Petco offers a list of safe dog foods depending on the vet's approval.
The calcium oxalate in kiwifruit causes kidney and bladder stones if consumed excessively. Kiwis should not be given to dogs with kidney problems or prone to kidney stones. So now we are clear about whether "CAN DOGS EAT KIWI."