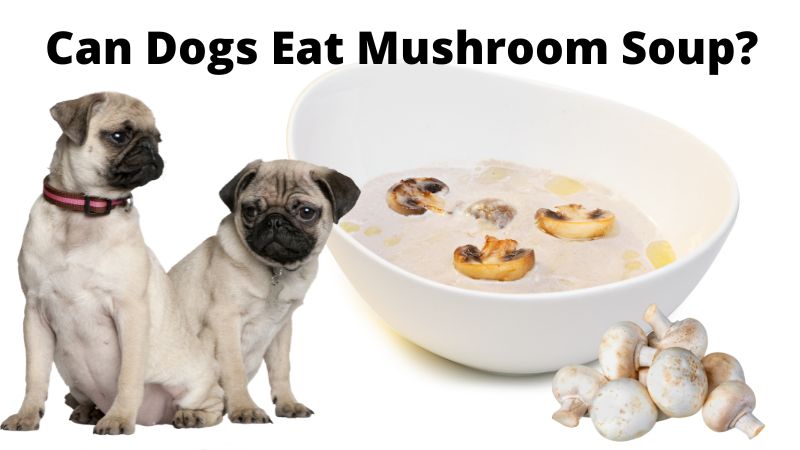 A bowl of simmering mushroom soup is an exquisite treat on a cold day.
Now you might think about whether it's safe to share this with your four-legged canine friends without causing them any harm.
Can Dogs Eat Mushroom Soup?
The answer is yes if one follows certain instructions.
Dogs can't eat any canned mushroom soup from the store, nor is it safe to feed dogs mushroom soup you cooked for human consumption.
This is because ingredients safe for human consumption don't mean they are secure for pets either.
There is no way for dogs to determine what's suitable for them and what's not. Due to this, the owner is solely responsible for feeding them healthy meals, which is important for their overall development.
Before feeding your dog any food, soup, or juice, purchased from the market, always check the ingredients, whether they are safe for consumption by pets or not.
Mushrooms varieties that are safe for consumption by dogs?
A) Shiitake mushrooms
Shiitake mushrooms come from East Asia and are loaded with nutritional value. They contain copper, iron, selenium, and zinc.
Both dogs and humans can consume Shiitake mushrooms once they are properly cooked. The allergic reaction can be nasty if it's not cooked properly.
B) Maitake mushrooms
This perennial fungus blooms for several years. Your dog will benefit from its medicinal properties, such as reducing cholesterol, controlling blood sugar, and boosting immunity.
C) Lingzhi (Reishi)
It is found in China and has similar effects to maitake. Dogs can feel better after eating it, their allergies might go away, and it also helps in strengthening their immune system.
D) White Button
Your pet's health gets a boost after they consume white button mushrooms, as they are rich in copper, potassium, vitamins, etc.
Mushrooms varieties that are unsafe for consumption by dogs?
A few wild mushrooms to avoid completely:
Jeweled Death Cap or Amanita Gemmate
Death cap or Amanita Phalloides
Gyromitra Esculenta, or False Morels.
Galenira Marginata or the Deadly Galenira
Clitocybe Dealbata
Fool's Funnel
Pleurocybella Porrigens or Angel's Wings
Funeral bell or Galerina marginata
The most sensible action is to treat every wild mushroom as poisonous.
Contact your veterinary professional immediately if your pet starts showing any signs of distress after eating wild mushrooms.
Health Benefits of Mushrooms for Dogs?
Amino acids and proteins: help in the biological building of blocks.
Riboflavin: increases fat oxidation and energy production
Manganese: prevents weak growth and abnormalities of the skeletal system.
Iron: A healthy growth rate is promoted by iron, and it also prevents anemia.
Phosphorus: promotes bone development in dogs.
Selenium is great for healthy skin, arthritis, and heart health.
Vitamin C: A dog's immune system is boosted by vitamin C.
Potassium, sodium, copper, and phosphorus are minerals vital for your dog's good health.
Furthermore, mushroom consumption helps in?
Protecting against bacterial and viral infection.
It helps in maintaining blood sugar under control and enhancing metabolism.
The improvement of renal and liver function.
Lowering cholesterol and weight.
Things to consider while preparing mushroom soup for dogs?
While making soup for dogs, ensure to put only organic store-bought mushrooms in the dish.
Mushrooms pick up toxicity from their environment, so consuming non-organic mushrooms is not recommended either for humans or their pets.
Make sure you use mushrooms in small quantities to prevent upset stomachs and indigestion issues in your pet.
Mushrooms should be finely diced before being added to the soup. This will eliminate the choking hazard.
Avoid adding ginger, garlic, onion, excessive salts, seasoning, and any item unstable for dog consumption.
An excess of olive oil in the soup may make your dog's stomach work harder to digest it, causing discomfort. So, try to use an extremely low portion of olive oil.
Do not serve dogs condensed soups purchased from the market. Besides being high in fats and sodium, they also contain added preservatives and additives. All this is harmful to dogs.
Watch out for any negative reactions, such as vomiting or diarrhea, when feeding mushroom soup to your dog. If you observe any sigh of illness, Stop the feed immediately and report it to your vet as soon as possible.
What if dogs consume wild mushrooms?
Dogs generally use their excellent smell to identify toxins in food items.
Despite this, it is unlikely that they will be able to distinguish a good mushroom from a toxic mushroom.
Symptoms of mushroom poisoning in dogs?
Poisoning symptoms vary depending on the consumed variety.
A few are mentioned below:
Presence of excessive saliva while drooling
Abdominal Pain
Gastrointestinal Issues
Diarrhea
Ataxia
Seizures
Symptoms of Coma
Liver Failure
If you observe any of the symptoms mentioned above, you should immediately contact a qualified veterinarian. When complications arise, it is best to take care of the problem without losing any time.
How To Prevent Your Dog from Eating Wild Mushrooms?
By rewarding your dog with tasty treats once they follow a command, you can teach them to drop objects in their mouth or to follow any other instructions. It also acts as a great preventive measure to make them drop poisonous and unwanted items they have in their mouths.
If you find wild mushrooms growing in your yard, take care to dispose of them safely.
As you walk through an area known to be home to a thriving population of wild mushrooms, keep your dog on a leash, lead them and keep a close eye on the ground.
If feasible, then altogether avoid taking your pet in damp or wooded areas.
Conclusion
Can Dogs Eat Mushroom Soup?
A store-bought can or condensed mushroom soup is not suitable for dogs unless the packet specifically mentions Dog/Pet Safe.
It is safe for dogs to be given mushroom soups made at home, as long as we use fewer unhealthy ingredients.
Consumption of wild mushrooms may lead to sickness, and if eaten in excess, then the situation might even turn fatal.
Some dogs might have allergies related to the consumption of mushrooms. It is always wise to consult your veterinary expert while making a diet chart or adding new food to your pet's meal.