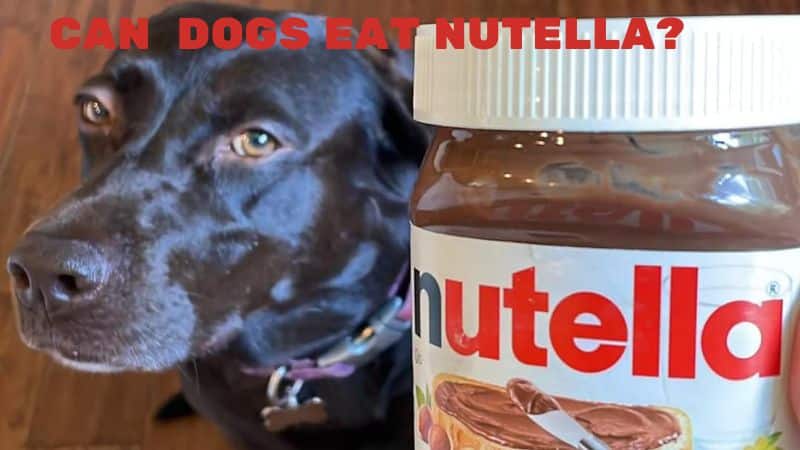 Nutella- The famous spreadable hazelnut cream makes for a great snack when paired with bread, croissants, or other treats.
If you'd like to give this lip-smacking spread to your dog, you might want to check whether it is a healthy option for them.
Can Dogs Eat Nutella?
Dogs should not consume Nutella.
Nutella has no nutritional value for your dog; if it is consumed regularly, you will cause more harm than good.
Nutella is a paste made from sugar, hazelnuts, cocoa, milk, and palm oil.
These ingredients are not harmful to your pet if consumed in small amounts; however, a chemical compound in a cocoa powder called theobromine makes Nutella toxic for dogs.
If your dog has consumed an excessive amount of Nutella, you should immediately seek the advice of your veterinarian.
Dogs should not consume Nutella due to following reasons
Including Nutella in your dog's daily or weekly diet can have serious long-term effects on their health. Consumption of even a small percentage of cocoa could pose a threat to puppies, elderly dogs, and sick dogs.
Let's examine some of the constituents of Nutella and their harmful effects on dogs:
Theobromine: It is well-known that theobromine adversely affects dogs' hearts and nervous systems. The consumption of this compound can even lead to death in dogs.
Fats and Sugar: A diet high in fat and sugar harms humans and their dogs. Nutella's rich fat and sugar content will cause dogs to gain weight. Obese dogs are likely to develop chronic diseases like diabetes, joint issues, hypertension, thyroid problems, etc. These diseases will require therapy throughout their lives and substantially shorten their lives. Furthermore, fat dogs are more likely to develop fatal diseases such as heart disease, cancer, and kidney disease.
My dog accidentally ate Nutella.
When compared to chocolate products, Nutella contains less amount of cocoa. Still, dogs can become sick from consuming even small amounts of theobromine.
Generally speaking, if you give your dog a small amount of Nutella, you can expect him to be okay.
Nevertheless, you should contact your veterinarian immediately if your pet consumes a significant amount of this hazelnut spread.
Symptoms to watch for if your dog consumes excessive amounts of Nutella
If your dog is showing any of the symptoms listed below, then it should never be ignored by you. If left untreated, these issues could turn fatal.
Gastroenteritis: The digestive tract is inflamed by gastroenteritis.
Dogs with gastroenteritis may experience the following symptoms:
Recurrent vomiting is an indication of gastroenteritis.
Diarrhea is a typical symptom of gastroenteritis.
A light fever is usually present in dogs suffering from inflammation.
They will not have any appetite or have a decreased appetite.
The dog will become dehydrated because of continued vomiting and diarrhea.
Whenever the abdomen is touched, the dog may show signs of discomfort.
Pancreatitis: This condition affects the pancreas and may lead to an alteration of enzyme production.
Pancreatitis typically has similar clinical signs as gastroenteritis.
It is also possible to develop diabetes mellitus from prolonged pancreatitis as the insulin-producing cells may be destroyed.
Dogs can recover fully if diagnosed early and treated adequately.
The Bottom Line
Can Dogs Eat Nutella?
Dogs shouldn't be fed Nutella as it's fattening and lacks beneficial vitamins or minerals.
However, if your dog is too fond of this chocolate spread, then to lift their mood, you can feed them the same occasionally but even then, make sure that the portion size is minimal.
Providing your dog with a balanced diet is one of the best things you can do to reduce its chances of developing harmful diseases.