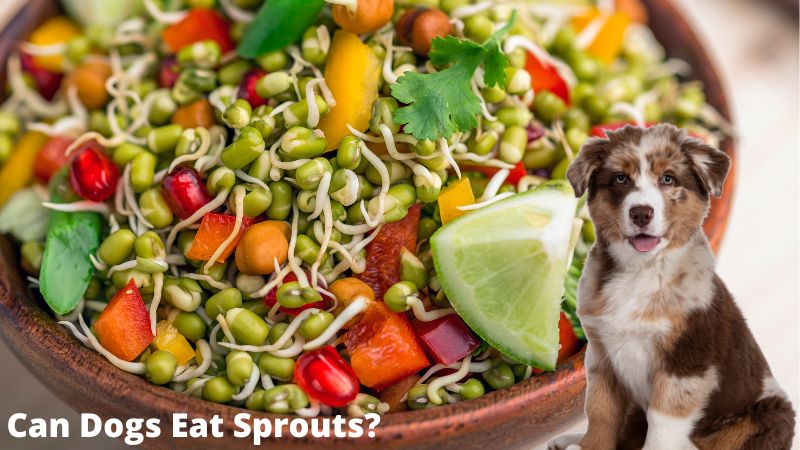 Can Dogs Eat Sprouts?  
Precautions, nutrients, and benefits of giving
Can dogs eat sprouts? Additionally, I am curious about how to feed it to dogs, such as raw or heated. Bean sprouts are a very nutritious food.
This article will explain the health benefits of bean sprouts for dogs, the amount that can be given, how to provide them, and what to be careful about.
Sprouts are okay for dogs!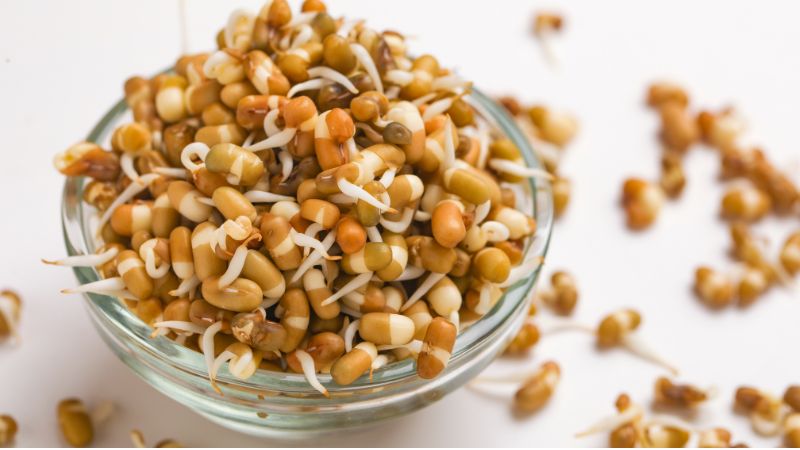 Bean sprouts are a vegetable that dogs can eat. Bean sprouts are highly nutritious, low-calorie, and low-cost vegetables. Bean sprouts do not contain any harmful ingredients for dogs.
Additionally, depending on how you administer it, you may positively affect your dog's health. Because of this, many dog owners actively feed their dogs bean sprouts, such as adding them to homemade food or topping their regular food.
Even if sprouts are harmless for dogs, you must be careful how much you feed them. Let's see what kind of nutrition bean sprouts contain and what health effects can be expected.
Properties for bean sprouts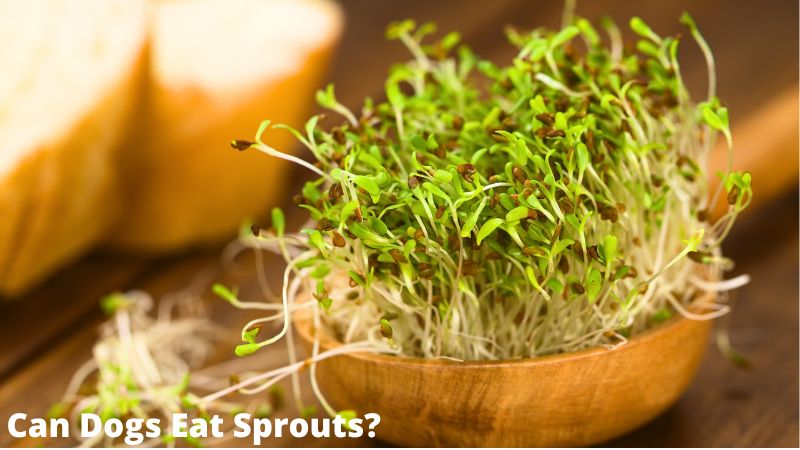 Bean Sprouts Nutrients and Benefits for Dogs
For fatigue recovery and eye disease prevention, take vitamin C!
Bean sprouts are a food rich in vitamin C. In addition, it contains folic acid, vitamin B1, and vitamin B2, and its effects include improving immunity, recovering from fatigue, maintaining skin and hair health, maintaining eyesight, and preventing eye diseases.
Also, vitamins B1 and B2 are essential nutrients for active dogs who do sports and long walks, so it might be a good idea to give them after intense exercise.
Mineral-rich, containing potassium, calcium, and phosphorus
Additionally, bean sprouts contain potassium, calcium, and phosphorus minerals. Potassium is particularly rich in content and promotes metabolism and fat burning, so it can also help with diet support.
In addition, potassium smoothest the work of muscles and controls blood pressure and diuretics.
Rich in amino acids, fatigue recovery, and anti-aging
Bean sprouts are also a good source of amino acids. Amino acids, like aspartic acid, can prevent aging and recovery from fatigue, so they help prevent summer fatigue.
Sprouts of soybeans are extremely rich in these amino acids. Moreover, bean sprouts can be a source of hydration since more than 95% of their weight is water.
Fiber prepares the intestinal environment and relieves constipation!
Additionally, bean sprouts contain dietary fiber. Dogs cannot digest the dietary fiber of vegetables. Still, this property may adjust the intestinal environment by increasing stool bulk and entangling hairballs in the intestine.
It's not uncommon for dogs to enjoy bean sprouts, so why not include them in their diet with their staple food?
How to give your dog sprouts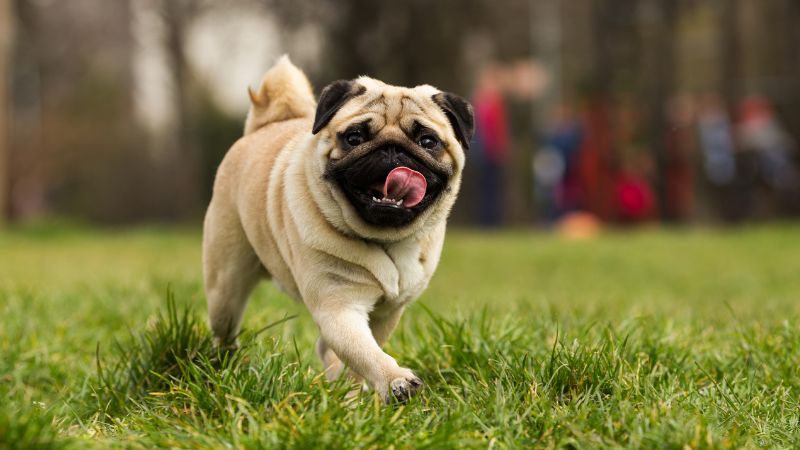 Boil and give fresh
Feeding your dog sprouts requires boiling them before giving them. Bean sprouts are perishable, so you must be careful about freshness. It is ideally cooked the same day it is purchased, especially during the hot summer.
Give finely chopped
For dogs, bean sprouts are difficult to digest, so chop them up and feed them. Bean sprouts are excreted, so the stool may be continuous or difficult to pass.
Many people who give sprouts to their dogs have had the experience of "a long, thin object coming out of the dog's buttocks. It looked like a roundworm, but it was bean sprouts."
Serve as a topping
Make sprouts part of your regular meals for your dog, such as topping his typical dog food or incorporating them into homemade rice.
Can dogs overeat sprouts?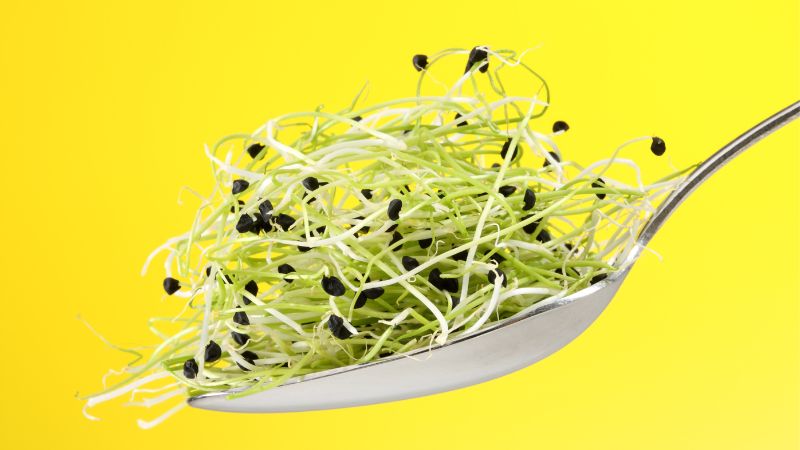 When feeding dogs other than staple foods, the guideline amount is "within 20% of the daily calorie amount".
Raw mung bean sprouts contain 14 kcal per 100g, so about 125g per day is a good amount to give a small dog (approximately 5kg). It is a good idea to aim for a little more than half of a bag of bean sprouts sold at the store.
However, this amount assumes that nothing other than bean sprouts and food is given. Once a day, boil a pinch of bean sprouts (thumb, forefinger, and middle finger), chop them finely, and add them to your dog's food as a topping. Isn't that realistic?
The caloric intake of boiled bean sprouts per 100g is slightly lower than that of raw bean sprouts, which has 12 kcal per 100g. Please refer to the following article if you wish to adjust the amount based on that point.
Precautions when giving sprouts to dogs
don't give too much
It would help if you were careful how much food your dog gives. If you give your dog too many sprouts, it may be unable to digest the high fiber content of nodes, resulting in vomiting and loss of appetite.
In particular, puppies with underdeveloped digestive systems, elderly dogs, and dogs with weak stomachs may experience diarrhea due to a large amount of water in bean sprouts. Additionally, there are
Although bean sprouts are harmless for dogs, be careful not to feed them continuously or in large amounts daily.
Beware of Allergies
There are also cases of dogs developing food allergies. Dogs with soy allergies should avoid soybean sprouts.
When you feed your dog bean sprouts for the first time, even if you don't have an allergy, give them small amounts while observing the situation. A veterinarian should immediately see symptoms such as diarrhea, vomiting, loose stools, and red skin.
A diseased kidney dog should be cautious.
Bean sprouts contain much potassium, but excessive potassium consumption can cause health problems. Please consult your veterinarian before feeding sprouts to dogs with kidney disease.
Dog-friendly recipes using bean sprouts
Dog rice in two-color bowls
The recipe uses vegetables such as bean sprouts and minced chicken. Besides being nutritionally balanced, it is also tasty, so it is recommended to increase appetite. It might be nice to top on your usual food!
Iron-rich! Vegetables and liver sprouts stir-fried.
This vegetable stir-fry recipe uses bean sprouts and chicken liver. This method of cooking is simple but full of nutrients. As a nutritional supplement, it is excellent for recovering from fatigue, improving physical strength, and maintaining appetite!
An overview
Here are the precautions and how to feed them to dogs when they eat bean sprouts. Bean sprouts are inexpensive and highly nutritious vegetables that humans and dogs can eat actively.
Dogs benefit from eating bean sprouts because they contain vitamins that boost their immune system, potassium, dietary fiber, and amino acids that prevent aging and alleviate fatigue. There are many things.
More than the appropriate amount may cause diarrhea, so the owner should take some time to make it easier to digest.
It turns out that many dogs seem to like boiled bean sprouts. They can add volume to your diet, replace snacks, and rehydrate your dog.
Also, dogs can eat other vegetables, but I will provide some related information below, so please look.