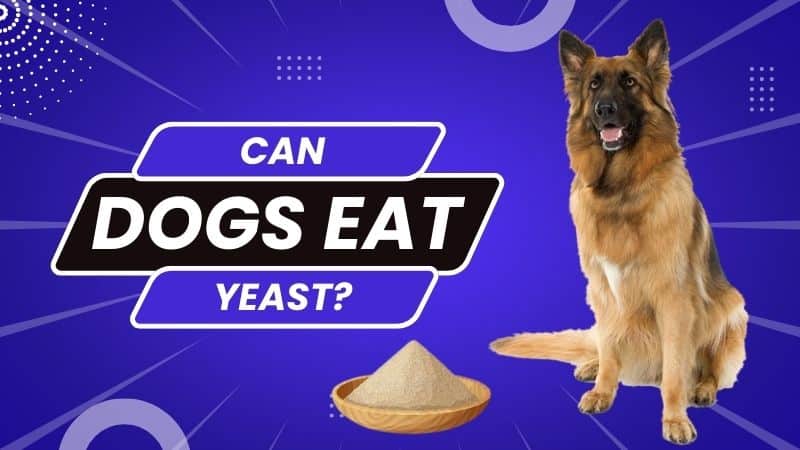 Can Dogs eat yeast? If you love baking, then there are 100% chances of having some dry yeast packets available in the kitchen. The yeast is used to bake bread, and it is very risky for our pet animals.
Dogs are fond of eating bread and will consume it even in raw form. But the question here is, is it ok to serve raw bread or yeast to your dog?
The answer is No!
If the dog consumes dough, it expands and results in a distended stomach or bloating. Both of the conditions are harmful.
Yeast is the ingredient present in the raw dough that results in this issue. It is very dangerous for dogs, and its consumption of it causes life-threatening problems.
In this blog, we will discuss what is yeast and what are the health issues caused by the consumption of yeast?
What is Yeast?
Yeast is a unicellular micro-organism that belongs to the fungus family. These forms of life have been found for hundreds of millions of years. At present, there are almost 1500 species of yeast that are known.
In baking, there are many types and forms of yeast available e.g., powder-like, cake, and many more. Also active dry yeast is the most common type of yeast used in baking homemade bread.
Active dry yeast has granules that have live yeast cells. They are in dried form and available in packets. Moreover, if you want to work with active dry yeast then it requires rehydration.
Active dry yeast can be kept at normal temperature for almost a year, or in frozen form for a century or more.
Can Dogs eat yeast?
The simple answer is no dogs cannot enjoy yeast bread. Yeast is very dangerous for dogs and the consumption of yeast causes life-threatening problems.
In a warm and moist environment yeast rises, so ingestion causes stomach expansion ultimately increasing pressure and size that causing bloating.
Another issue caused by the consumption of yeast is alcohol poisoning. Ethanol is produced by yeast which leads to alcohol poisoning in dogs. The reason is that, inside a stomach, yeast ferments and produces alcohol.
What are the signs and symptoms of Intestinal Blockage and Alcohol Poisoning?
You may observe the following symptoms if your dog develops alcohol poisoning.
Hypothermia
Neurological depression
Seizures
Respiratory failure
Hypotension
Following are the signs are symptoms of intestinal blockage of GDV.
Vomiting
Collapse
Diarrhea
Elevated heart rate
Constipation
Lethargy
Bloated, painful abdominal area
Weakness
Immediately call your vet, if you observe any of the above-mentioned symptoms.
Conclusion
Dogs cannot eat yeast bread. If a dog accidentally consumes some of the yeast bread, observe the symptoms to develop and rush immediately to your vet in case of emergency.